Vocabulary Builder in Kindle transforms your device into a language learning tool
The books we read are sometimes laden with words that lie outside the realm of our day-to-day discourse. It's also unlikely you'll stop to look up every single foreign word you come across but if you do, even for some of them, chances of you figuring out their meaning based on the context they're used for can surely help in improving your vocabulary. The Vocabulary Builder in Kindle is built with such a purpose in mind. It offers a wonderful strategy to learn new words and helps you engage in active, purposeful, engaged reading.
How to use Vocabulary Builder in Kindle as a language learning tool?
Kindle models provide a dictionary definition in a little bubble, so you don't lose your place or go elsewhere to find the meaning while reading. Just like that the Vocabulary builder in Kindle helps you reinforce your learning by remembering new words. All the words you looked up in the dictionary at different times of your reading session automatically show up under this section. You can then view Flashcards or review usage examples for those words. So, if you have a Kindle, you can transform it into an English learning tool. Here's how!
Wake up your Kindle by entering the passcode. Open a book and swipe down from the top to reveal the Quick Actions menu.
Select the All Settings option from the list of options displayed.
When directed to a new screen, scroll down to the Reading options heading. Tap the side-arrow adjacent to this option to display more options.
Switch to the Vocabulary Builder entry. By default, the option is disabled. So, to enable it, simply slide the toggle to the On position.
Hereafter, you can then view Flashcards or review usage examples for those words by simply tapping the Menu icon (visible as 3 vertical dots) and selecting the Vocabulary Builder option. You can also use the X-ray feature to get background info.
How do I clear my Kindle vocabulary builder?
There appears to be no simple way to clear the list or do a Kindle Vocabulary Builder reset. However, there's a workaround! Go to this website to download the Kindle Mate software.
While making sure your Kindle is connected to your PC, run the software.
Switch to the Edit menu in the menu bar, and then select Sync Changes to Kindle (shortcut F10) option as shown in the image above.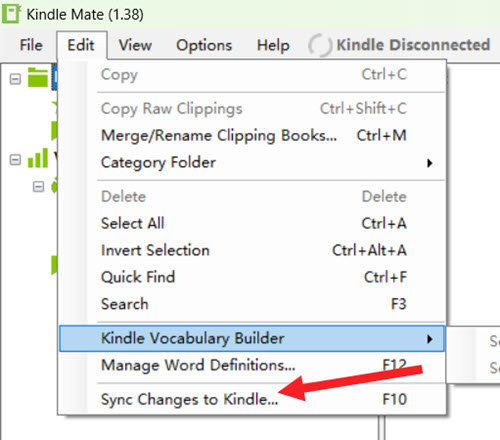 Next, in the Dialog box that appears on your computer screen, check Sync Kindle Vocabulary Words and Truncate all words in Kindle boxes.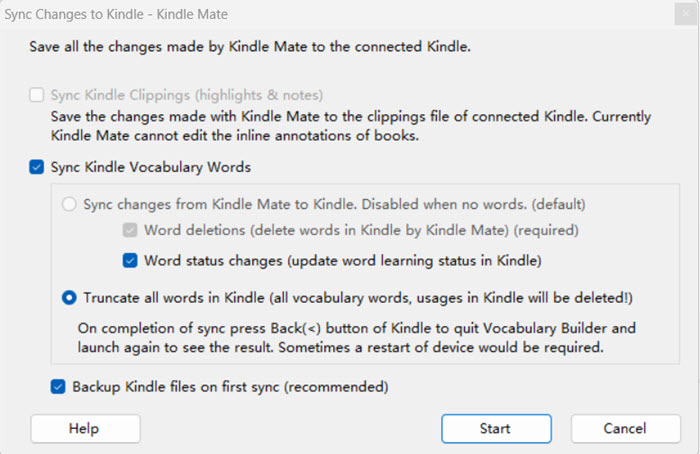 Hit the Start button to delete all your words in Kindle Vocabulary Builder. Also, read sync page to the furthest page read.
Hope that makes sense!
Share on Facebook