Swift AirPods Retrieval: Locate your AirPods with FindMy in Minutes
Airpods are quite small and light. This makes it harder to find when misplaced. In case, they are lost, Apple charges a hefty amount to replace the lost wireless earbuds. Fortunately, you can save both, money and effort by using the Find My app. Read further to find how to locate your AirPods with FindMy when they go missing!
Easily Locate Your AirPods with the FindMy App: A Quick Guide
You can locate AirPods by checking them on the Find My App map. The app displays the location of all Apple devices that use the same Apple ID you used for creating an Apple account.
On your iPhone, go to Settings, tap your profile pic and scroll down to Find My app. Check if it is active. The Find My app combines Find My iPhone and Find My Friends into a single app on iOS 13 or later.
Hit the Devices tab located at the bottom of the Find My screen.
Under each device, you see a location, or No location found. If your AirPods are listed there, select them.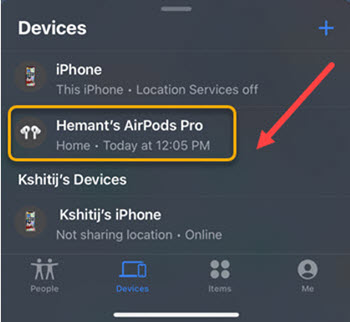 When hit, the Play Sound function will force your earpieces to chime. This works if the earpieces are nearby. Tap Mute Left or Mute Right tile to locate them individually.
You'll also see a message on your iPhone showing AirPods have been found and the sound was played. When you find one tap Stop and place the AirPod in its case. Repeat the procedure for another one.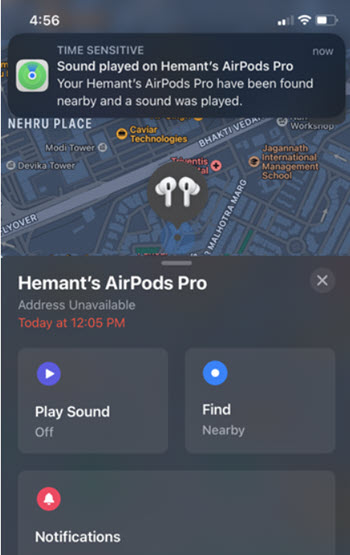 If your AirPods are not nearby or not traceable, tap the Directions tile to head back to their last known location.
Allow your iPhone to search for the signal and connect to your AirPods. This can take up to a minute.
Select the fastest route and hit the Go button. Once you have reached the spot, your iPhone screen will turn blue and will display a message, prompting you to look for your AirPods nearby. Hit the sound icon to follow the chime and locate your AirPods.
Even if your wireless earphones are offline, out of range, or low on battery, you can still discover them. Here, you won't be able to play the sound but you might be able to get the directions.
Thus, with these simple steps, you can locate or find your misplaced AirPods via the Find My app.
Note It is only possible to track your earpieces and not the AirPods case alone. You can locate the Case only when it has earpieces inside it.
Also read: Fix AirPods not charging correctly problem.
Share on Facebook