Google Enhanced Safe Browsing offers protection from dangerous websites, downloads, and extensions
Protecting yourself from crooks requires a little extra help and some extra protection against malicious sites while browsing the web or opening emails. So, Google has this new opt-in feature available for you. It's called Enhanced Safe browsing and lets Google check samples of pages you visit for any malicious content, alongside any suspicious URLs, downloads, and browser extensions, and flag them. Better known as Google Enhanced Safe Browsing, the feature can be useful, especially for users who use Gmail as their primary email service and have Chrome set as their default browser but it's important to get into details before biting the bullet.
How to activate the Google Enhanced Safe Browsing opt-in feature?
Google Enhanced Safe Browsing was first rolled out for the Chrome browser back in 2020. So, I was a little surprised when I got this new opt-in tool pop-up notification upon signing into my Gmail account. During my visit to the official blog page, I found Google was now advertising it as an opt-in feature for Google apps like Gmail and Google Drive (You can also use Privacy Screen on iPhone for your Google Drive security) in addition to Chrome, and seemed like a must-use. Feeling pressured to use it for the sake of protection, I decided to enable it and found it was easy to activate.
If you're already logged in to your Google account, click or tap on your profile icon or picture in the upper-right corner and hit the Manage your Google Account button.
On the left, scroll down to the Security heading.
To the right, locate the Enhanced Safe Browsing for your account section.
Under it, click or tap the Manage Enhanced Safe Browsing link.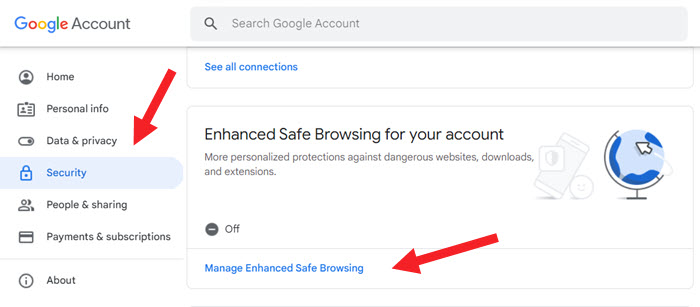 When directed to a new page, toggle On the switch next to the Enhanced Safe Browsing option. Here, you can select 'learn more' to read more about exactly what the opt-in feature does. Primarily, it monitors the web addresses by looking for any uncommon URLS against a real-time list of suspected scam sites in Google databases, reducing the odds of you landing on a malicious site.
You can overrule these checks and monitoring at any time by turning off the feature. When you disable Enhanced Safe Browsing in your account, it may take up to 24 hours for this setting change to complete.
Conclusion
Google's Enhanced Safe Browsing protection configures Chrome to use the latest threat intelligence and advanced user protections to keep you safe while you browse.
As such, you may feel tempted to use this feature but it's worth it to pause here for a moment and remind yourself that it can associate information gained from Enhanced Safe Browsing with your Google account to help you protect across Google apps.
So, if you aren't sure about sharing too much information with Google, enabling this opt-in tool may not be a great idea. However, if you feel the security benefit outweighs the privacy risk, go ahead and try it.
Share on Facebook