Secure Your Space: Quick Guide to Add Lock To Your Facebook Profile
Facebook is a place where sometimes, you'll find people enacting their relationship statuses –progressing from single to committed to even more complicated like 'Married' (in jest). Unfortunately, one of those stages that come straight after the brief period attached relationship is the breakup or the stalking stage on Facebook. While Meta can't stop someone from stalking your profile, it certainly offers a solution through the 'Facebook profile lock' to restrict their access. You can add this lock to your Facebook profile to deter stalkers and ensure that only your closest connections can monitor your activities.
How to lock your Facebook profile?
The option to add lock to your Facebook profile lets you have one-click access to additional privacy and security features that you might want to configure for your online safety. Once it's been set up, the feature will lock your Facebook profile and only allow your friends to see your photos and read posts. Others will not be able to download or zoom in on your profile picture and cover photo, as before. You can also restrict your Friends list.
Launch the Facebook mobile app and tap the Menu (visible as 3 horizontal bars) at the bottom of the app screen. Scroll down to Settings & Privacy heading. Tap it to select Settings.
Now, when directed to a new screen, scroll down to the Audience and visibility section. It allows you to control who can see your posts, stories, and profile.
Under the Audience and visibility section, look for the Profile locking option. When found, tap to select it.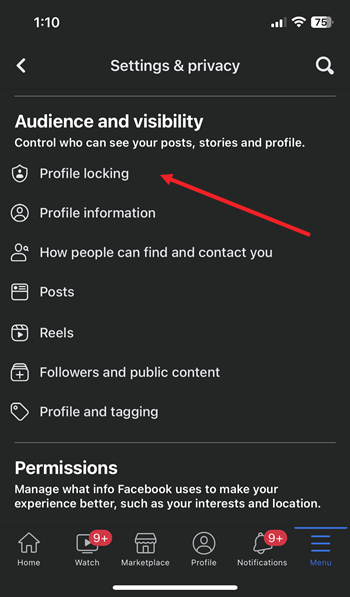 Tap the Lock your profile button at the bottom of the app screen to lock your profile on Facebook. You should see a Profile Lock icon, signaling the feature is now active.
When prompted with the confirmation message saying you've locked your profile, tap the Ok button to confirm the changes.
Similarly, if you notice the shield icon next to someone's profile, it means that person has locked their profile. As such, they want to show only a limited version of their profile content to people they are not friends with.
How can I lock my Facebook profile on PC?
To lock your profile on a laptop, click your profile picture. Then, tap the Menu (3 horizontal dots) button and from the list of options displayed, select the lock profile option.
When prompted to confirm, select the Lock Your Profile tab. Any changes you made after you locked your profile will stay the same after you unlock it.
It's also important to note here that when you lock your Facebook profile, the Profile review and Tag review will be automatically enabled. So, If you are no more friends with someone who is tagged in your photo, the tag will still be there, but the person won't be able to see the photo. Also, you won't be able to tag people you're not already friends with. See, how you can remove tags from Facebook.
How do I unlock my Facebook account?
At any point in time, if you feel like making your Profile public again, you can undo this change. To unlock the Facebook profile, access the Profile locking option again.
Choose the Unlock icon.
Hit the Unlock Your Profile button to confirm the changes again. Wait for the unlock message to appear.
Why Facebook profile lock is not available?
It's quite possible that you are running an outdated version of the Facebook App on your mobile. You can confirm find if there's an updated version of the app available by visiting the App Store. Also, the feature is not available in all countries.
Just go to the App Store, and tap the Apps icon at the bottom of the screen.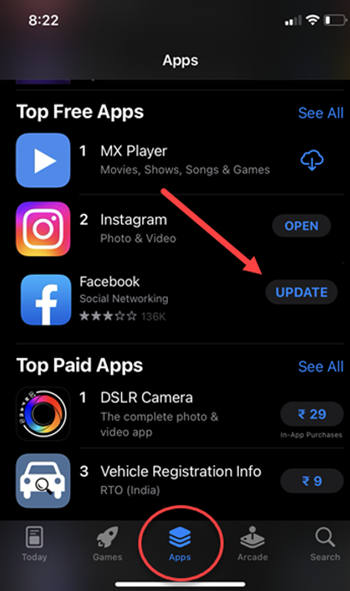 Then, scroll down to the Top Free Apps section and see if there's an update available for the Facebook app. If yes, hit the Update button to update the app to the latest version, and then try locking your profile again.
Ready for more tips?? See how to disable public search for your Facebook profile and stop search engines linking to it.
Share on Facebook