7 differences that show how Instagram's Threads differ from Twitter
Though labeled as a Twitter copycat, the vision of Meta's Threads is to create an open and friendly public space for conversation and have a more creative experience around the text. So, it's not simply a Twitter clone but a more sanely run version of the micro-blogging platform that is free from volatility, uncertainties, and limits on how much content users can view each day. Still, there are quite a few differences that show how Instagram's Threads differ from Twitter and the ways you could use each service.
How Instagram's Threads differ from Twitter?
Threads by Instagram looks a lot like its rival -Twitter and runs almost the same features, including short text-based pieces of content and familiar icons for liking (Heart), adding a comment (speech bubble), and Posting a comment (paper airplane). You can also quote a thread just as you quote a tweet but there are 7 main differences that show you how Instagram's Threads differ from Twitter. Here's how we've compared it to its main rival.
1] Logo Design
The current logo simply known as the Twitter bird resembles a hummingbird that has a small beak and body that point toward the sky, symbolizing the joy of freedom and communication. On the other hand, The Threads logo is more abstract with a springy white coil against a black background. There's much speculation around this tech logo as some believe it closely represents @ symbol seen in Twitter handles and email addresses.
2] Availability
While Twitter is accessible on both, your smartphone as an app or a PC (web versions), Threads is available only as an app (iOS and Android). This makes it mobile-exclusive.
3] Syncing accounts
Twitter functions as an independent app or service as it isn't tied to any other app but just borrows log information from your Google or Apple Account. You can even create a brand new account. Threads, however, sync with Instagram. There's no other way to log in to Threads apart from your Instagram account and vice versa. Moreover, your Threads account cannot be deleted without deleting your Instagram account. In a way, Meta's text-based app takes advantage of Instagram which already has more than 2 billion monthly active users.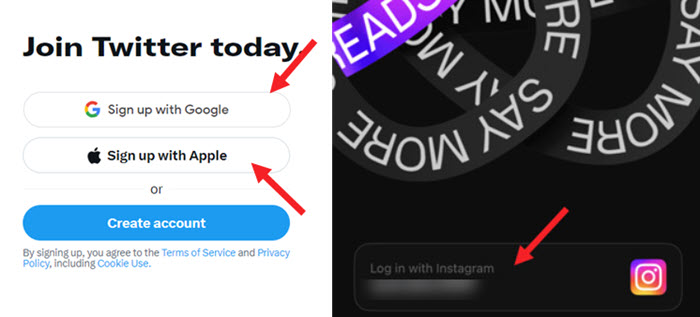 4] Drafts
Twitter's most formidable competitor though provides an alternative digital space for conversation it does not appear to have an option to save drafts of posts. Twitter has it! So, early adopters rushing to try out the app and write their first posts should be mindful of this shortcoming.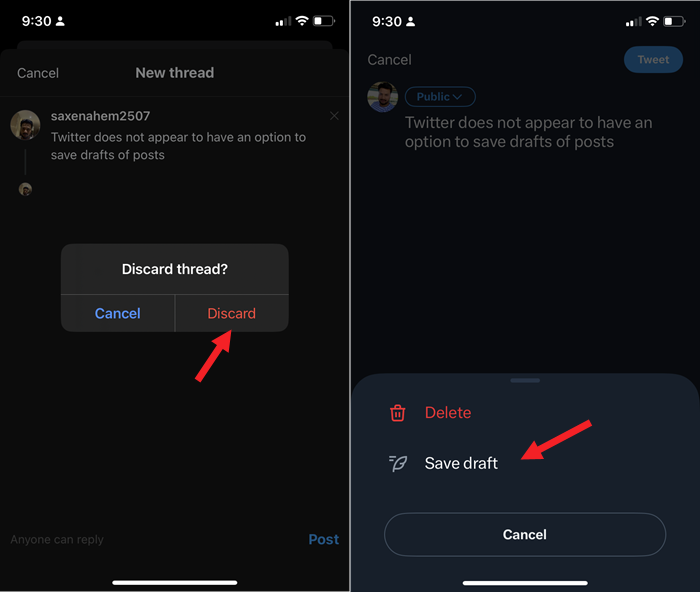 5] Text limit and feed curation
Twitter, for the longest time, was hated for its 140-character limit which its makers revised upwards to 280 characters. For Twitter Blue subscribers, the courtesy is extended even furthermore. There's no limit on the number of characters they can add in a tweet.
Unlike, Twitter, Threads puts a hard stop at 500 characters but posts you create on Threads are readily sharable on Instagram Story or profile. Having said that, there is no way to text someone privately on Threads, as available on Twitter via Direct Messages.
6] Content Visibility
Currently, there's no way to look for content inside the Threads app. We feel, it needs a more robust search function to make it easier for its users to follow topics and trends in real-time. For now, users can only search for accounts and view posts on specific topics. It also lacks an option to live broadcast.
7] Media files and Images
Both (Twitter and Threads) allow you to post website links, add videos and images but to be able to post a GIF on the Threads platform, one has to first save the GIF to the camera roll and then upload it to the app. Twitter on the other hand has a dedicated option option to add GIFs to tweets or you can create GIFs with Live photos on an iPhone.
Another important thing to remember is that one can post more images and videos at once on Threads whereas Twitter stops short with four items per tweet.
So, these are some of the differences between Twitter and Threads in-app experience. If you think we missed out on any, let us know about them in the comments section below.
Share on Facebook