Chat Lock in WhatsApp promises to make your special messages more private
We all have been through those moments when someone else was holding our smartphone and was just a step away from reading through all our private chats. You might have even escaped luckily somehow but tell me why take such chances when better ways of protecting your private chats exist? The new Chat Lock mode in WhatsApp promises to keep them secret. It configures specific chats not to show the sender's details or their message content. So, if you don't mind getting a bit of extra security for your private chats, the Chat Lock in WhatsApp is the way to go.
How to use Chat Lock in WhatsApp messaging app?
Apart from enabling end-to-end encryption for your chats which allows only the sender and recipient to access the contents of a message, you can also lock down individual or group chats through the Chat Lock in WhatsApp. That way, you can make sure your chats are safe from prying eyes. Let's find out how to use it to put our most private conversations behind a secondary wall of security.
Open the conversation of the contact you want to lock. Tap on their name or Display picture. Scroll down to locate the Chat Lock option. By default, the option is not 'On.
To enable Chat Lock, toggle on the 'Lock This chat with Face ID' option or enable the Lock this chat with fingerprint option if your device supports another biometric authentication method. You can also use a passcode.
Note: Your chats will not be locked on your linked devices. So, if you are OK with it, hit the 'OK' button to proceed further and complete the process.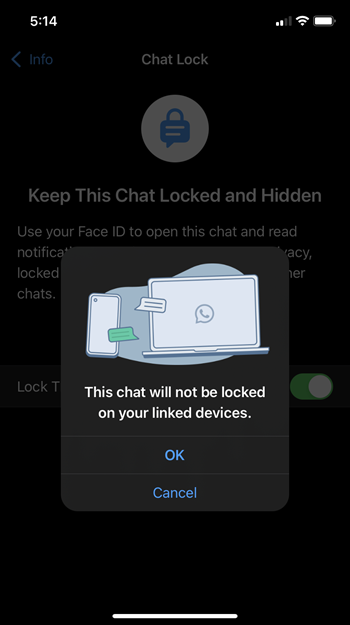 You can even use the temporary messages feature to remove your chats after a set time.
How to Access Locked Chats on WhatsApp
After you've locked down a chat, WhatsApp will remove it from the Chats tab. You can find it under a separate Locked Chats folder. You can readily access it by following the instructions listed below.
Open WhatsApp and tap the Chats icon at the bottom of the screen. Swipe down from the top to reveal the Locked Chats section.
Tap to open it and unlock hidden conversations using your passcode or biometrics.
The section will lock automatically once you switch back to the main chat screen.
Given that WhatsApp is among the most popular texting apps for smartphone users and over a billion people daily use it to send and receive messages, it makes sense to see efforts like these undertaken by Meta to ensure the privacy of users. Having said that, it is important to note that if you have other devices linked to WhatsApp, such as a desktop computer, the chats on those linked devices won't be locked and will be visible just like normal chats.
Also see: How to use WhatsApp to send your location.
Share on Facebook