Mute iPhone live photos with just a couple of taps to ditch all the noise in the background
Live photos on iPhone are essentially short videos that, besides capturing the object in focus, also record the buzzing or humming sound in the background. If it's too loud and distracting, it can ruin your shot. Luckily, there's a way to mute iPhone Live photos and ditch all the noise in the background with just a couple of taps.
How to mute iPhone live photos to remove any unwanted noise
When you mute iPhone live photos, you remove all the sound in the background. The result you get is still a standard photo that looks static, but when touched, it comes to life showing the entire 3-second clip with no audio.
On your iPhone Home Screen, tap the Photos app and select the Albums option. Scroll down to the Live Photos option and tap to select it.
Select a photo from which you would like to remove any unwanted audio and hit the Edit button, visible in the upper-right corner of the app screen.
In the Toolbar that appears at the bottom of the Edit screen, select the Live Photo icon. It can be seen as 3 concentric circles, with the outermost circle visible as a dotted one.
Tap the speaker icon (highlighted in yellow) to remove the audio from the photo.
If you see the speaker icon greyed out, it means the sound in the live photo on the iPhone has been disabled.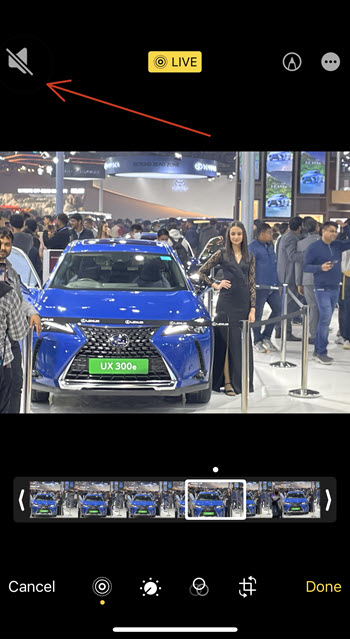 Now, when you go to look back at a Live Photo, a normal still image will appear, but when you'll push down on the photo, the extra recorded movement will play like a mini video clip with no sound.
What is live photos on iPhone
It's an Apple-exclusive feature that records what happens 1.5 seconds before and after you take a picture. It captures moments with movement and sounds to make images more relevant and relatable to the audience.
Hope that helps!
Also read: How to recover deleted photos in iPhone
Share on Facebook