Use Soundmojis or emojis with sounds to level up your Messenger experience
We often use emojis to express things words can't. As such, these animations not only add a dash of color to your text-based communication but also allow you to convey a broad range of emotions efficiently. A new offering from the Messenger app – Soundmojis or emojis with sounds aims to enhance this experience furthermore. It lets you add audible expressions to your favorite emojis used in Messenger chat threads.
How to use Soundmojis or emojis with sounds in the Messenger app
Emojis with sounds are branded as Soundmojis, a name given by Messenger's parent company Meta. They are readily accessible through a loudspeaker icon, hiding under a smiley face. Let's see how to find the exact soundmoji you're looking for and react to a friend's message.
Launch the Messenger app, open an existing chat thread or start a new chat. Tap the smiley face to open the Expressions menu.
When the Expressions menu loads, tap the loudspeaker icon located just adjacent to the GIF icon.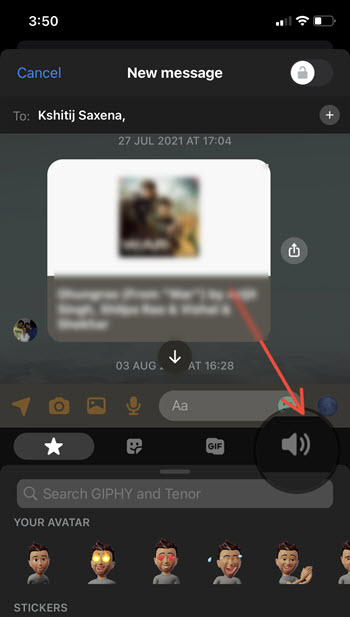 Pick an emoji you would like to add to the chat thread. Preview the animation by tapping its icon and check if it's working.
See your emoji laugh, cry, or play drum when you hit the Send button. keep on emoji'ing!
Although you can't send your own audio snippet alongside the message, you can choose from a variety of options, ranging from clapping 👏, crickets 🦗, drumroll 🥁 evil laughter 👻 and more. In short, these audio emojis will breathe a new life into your usually boring Messenger conversations.
Facebook Soundmojis new sound effects and famous sound bites
In addition to the existing collection, Facebook has launched an entire Soundmoji library for you to choose from. The company claims it will be updated regularly with new sound effects and audio clips from some of the popular stars like Rebecca Black, Jake Peralta from Brooklyn 99 and Betty Cooper from Riverdal.
Sound emoji messenger not working?
If the Sound emojis are not working in the Messenger app, make sure the app is updated and running the latest version. To verify if you have the latest version of the Facebook Messenger app installed, go to the App Store and search for the Messenger app. If you see the Update button next to the App title, tap it to install the update.
Hope that makes sense!
Ready for more tips? Check out 6 Messenger app hacks worth trying.
Share on Facebook