An effective downloading Instagram data strategy
After much hemming and hawing, if you've decided to bid adieu to Instagram, don't forget to acquire a backup of all your data. The photo and video-sharing social networking service has made it possible to get a copy of all your photos and videos you may have posted on its network. It's part of the company's compliance with Europe's new General Data Protection Regulation (GDPR) privacy rules to give users more control over their data. Here's a straightforward guide to downloading Instagram data.
How to take the headache out of downloading Instagram data
An effective downloading Instagram data strategy will require you to visit your profile and dig deep into the settings to see what sort of private information is stored on Instagram's servers. That's only possible when you know where to start. However, if you have no clue about it, we'll help you out. Second, it's also convenient if you want to take all of your data and move to another service.
On your mobile, launch Instagram append, tap the profile icon at the bottom of the app screen. Select Menu, visible as 3 horizontal bars in the upper-right corner.
Choose Your Activity from the list of options displayed.
Under Your Activity screen, scroll down to the Download your Information entry and tap to select it.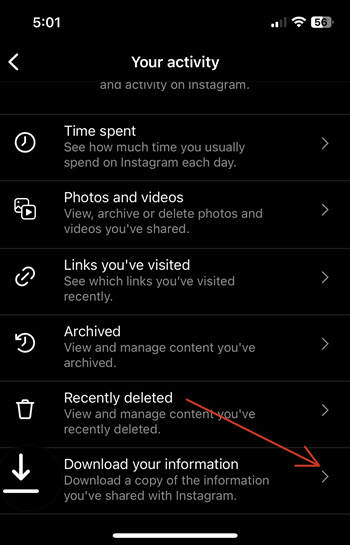 When prompted to enter your password, type in your password and hit the Next button to proceed further.
To get a copy of what you've shared on Instagram, enter your email ID. Hit the Request Download button to send a request to Instagram.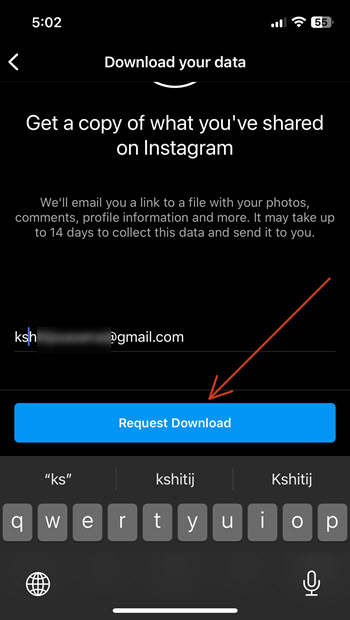 Instagram will begin creating a file of things you've shared and send it to your email address. When you see it, hit the Download information button to download Instagram data.
The process could take up to 14 days, depending on the size of your file. Fortunately, for me, it lasted for just 30 minutes.
How to open Instagram JSON file
When you unzip the data archive, you'll see a folder with a bunch of JSON files. If it's alien to you, copy and paste the contents of the files into this site to convert them into CSV files that are easier to read. You'll find all your search history, comments you've made, people you've blocked, and posts and images/videos you've liked. You'll even have time to go down memory lane and revisit all your cherished moments.
Share on Facebook