6 useful Messenger app hacks that are worth trying
A few of the Messenger app hacks are worth exploring. We've compiled a list of such secrets that can help you upgrade your conversation experience and turn you into a power user.
6 useful Messenger app hacks that make it more useful
Today, Facebook Messenger has become more than a chat and messaging app. You can use it to create and share links, invite friends to join a video call, or hang out with your favorite people. We'll show you 5 important Messenger app hacks that will make it even more useful.
Use the hidden search function in a conversation
Hide Facebook Messenger ads
Start a secret conversation
Share your location
Mute story from a contact
Facebook deactivated the messaging feature within its mobile app long ago. However, in exchange, it rolled out an excellent messaging client, named Facebook Messenger. This app supports an array of animations including stickers, emojis, and some very smartly integrated secret features that you'll find useful.
1] Use the hidden Search function in a conversation
If you want to search for something that someone shared with you recently via Messenger app conversation, don't scroll through the entire chat history. Simply use the Search in conversation feature, here's how!
Open any conversation and tap the contact's profile picture.
Then, under Settings tap Search in conversation.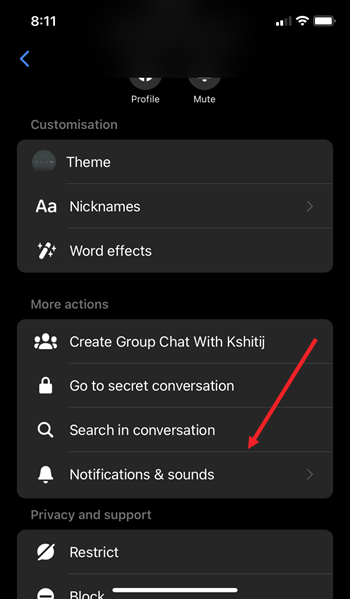 Thereafter, in the search field that appears, type the keyword you are looking for. The app will instantly display results matching the keyword.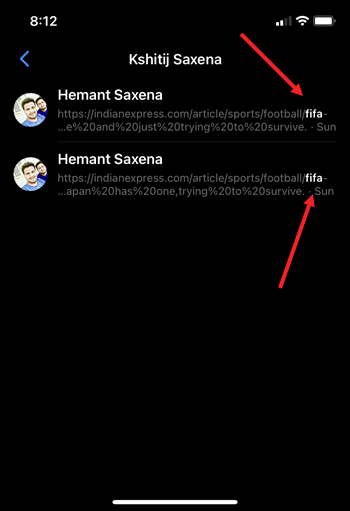 2] Hide Facebook Messenger ads
If, out of nowhere some Facebook Messenger ads start showing up in the conversations window, remove them by following these steps.
Under the Chats window, swipe left on the ad. Click the More menu (visible as 3 horizontal dots).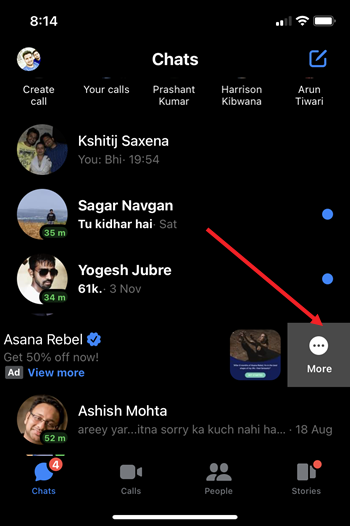 Then, from the list of options displayed, select Hide ad option.
Add a reason for hiding the ad, if required. Then, hit the Done button at the bottom of the screen.
The ad will be removed instantly.
3] Start a secret conversation
To keep a chat session with someone in the Messenger app strictly confidential, you can switch to secret conversations. Here's the trick for how to use the secret conversation in Messenger.
Select a contact and tap its profile picture. Then, under More actions section, tap the Go to secret conversation option.
You are now ready to start chatting in secret mode.
4] Send end-to-end encrypted messages
Messages and calls are more secure with end-to-end encryption. To try it in Messenger, tap the new message icon, seen in the upper right corner of the app. Then, select the contact with whom you want to start the end-to-end encrypted messaging session. A Lock icon should be visible to you in the upper-right corner.
Slide it to enable end-to-end encryption. Start sending end-to-end encrypted messages.
5] Share your location on Facebook Messenger
Facebook Messenger app makes it easier to share your current location with any of your Facebook friends. So, they know where you are. To know how to share location on FB messenger, follow these steps.
Open the conversation with the desired person. Tap the Location icon (arrow mark) and you'll see a map with a pin appearing at your exact geolocation.
Tap Start Sharing Live Location and your friend will have an idea about where to find you.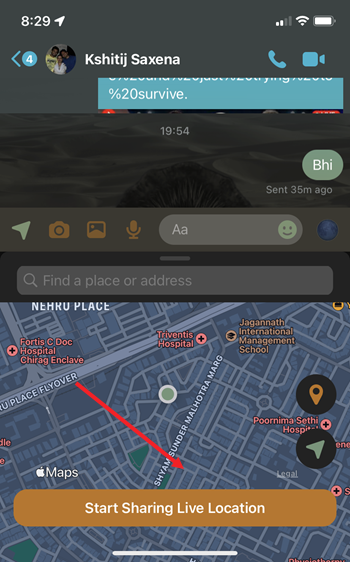 6] Mute story from a contact
Don't want to see stories shared by your ex in your Messenger inbox?? No worries! Here's a way to keep them away!
Switch to the Stories tab and tap on the story that you want to hide.
Next, Tap the ellipsis dots and select Mute story.
These are some of the secret gems Inside Facebook Messenger that you can explore and use to stay connected.
Share on Facebook