How to turn off headphone safety for Apple Watch, if you find it annoying
It is advisable to leave the volume of your headphones below the warning level so that you don't go past Apple's recommended 7-day audio exposure limit. When you do, your Apple Watch or iPhone will prompt you to turn down the volume. While it's an excellent feature and gives you more awareness around your listening habits, there can be instances when you might not want your Apple Watch to mandatory cut down the volume. Then, you'll need to turn off headphone safety option for Apple Watch which is enabled by default.
How to turn off headphone safety for Apple Watch
Just like the Noise app in Apple Watch that increases awareness about noise-induced hearing loss, the headphone safety feature alerts you about the audio exposure and if it has been loud enough for long enough to affect your hearing. Since it is On by default, it will make your Apple Watch or iPhone manage sudden volume spikes. If it's not useful, you can turn off headphone safety for Apple Watch. Here's an easy-to-follow.
Press the Digital Crown to go to the list of apps. Scroll down to Settings and tap to open it. Under settings, locate the Sounds & Haptics option and tap to select it.
Just below the HEADPHONE AUDIO, you'll find the Headphone Safety entry. Tap to expand it.
To protect your hearing, your Apple Watch will measure headphone audio levels. If you exceed the recommended 7-day limit, a notification will be sent. You'll be prompted to turn down your volume. After receiving a notification, the next time you plug in your headphones or connect them via Bluetooth, the volume will be automatically set to a lower level. So, to disable this setting, toggle off the Headphone Notifications switch.
Similarly, expand the Reduce Loud Sounds menu and toggle off the Reduce Loud Sounds option. This will stop your Apple Watch from analyzing headphone audio and reduce the sound that is over a set decibel.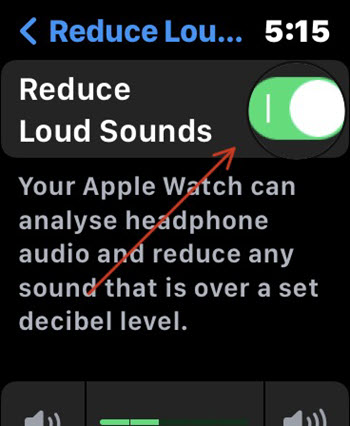 Hereafter, you should not receive any notifications or find your apple Watch lowering the headphone volume, automatically.
Why can't I turn off Headphone Safety?
A description on the Apple website says, owing to some regulations and safety standards, users in certain countries or regions can't turn off headphone notifications.
Share on Facebook