Use Netflix Smart Downloads to watch your favorite shows even when there is no internet connection
Even in locations with spotty internet access or no signal cell, you can complete watching a few episodes of your favorite Netflix shows. There's an offline-viewing feature called Smart Downloads that makes it all possible. It automatically downloads the next episode in the queue and deletes the previous one you've finished watching. You just need to make sure that you are running the latest version of the Netflix app.
How to enable Smart Downloads feature to enjoy Netflix on the go
Netflix Smart Downloads is a handy option for folks who love downloading and enjoying Netflix on the go. It also gives subscribers an option to have more control over their entertainment experience by streamlining the process of offline viewing. The good part is the feature works when you're connected to Wi-Fi, so your cellular data won't be used. If that sounds interesting, here's a quick walkthrough on how to use the feature on your iPhone.
Launch the Netflix app on your iPhone and tap the Downloads button at the bottom of the app screen.
Tap the Smart Downloads option, also visible as the cog-wheel icon to expand its menu of options.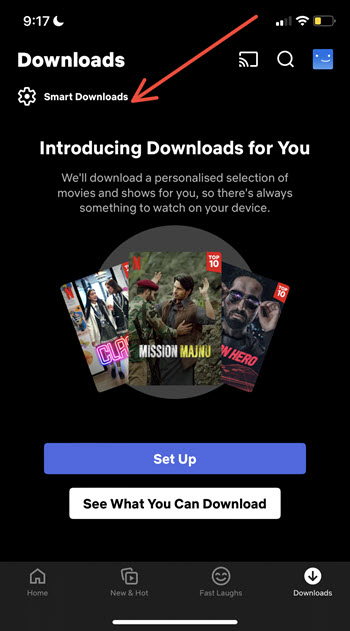 When directed to a new screen screen, check the Download Next episode option. By default, it is not On.
Toggle on the Download next Episode switch to enable the Netflix Smart Downloads feature. Also, you can let Netflix find shows and movies based on your interest and have them saved to your device by enabling the Downloads for you option. If there are multiple profiles, you can set the download limit for each profile.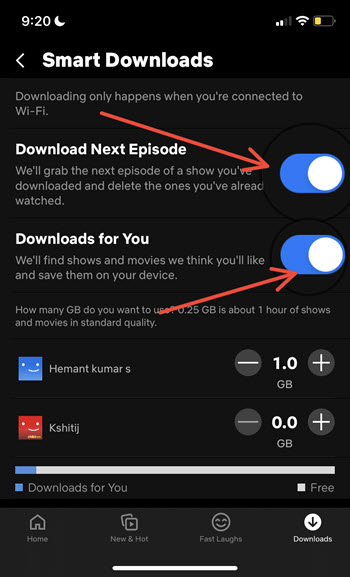 Now you can enjoy watching your favorite shows and movies even if you do not have an internet connection and connect with the stories you will love in an easier and more fun way.
Also read: How to cancel netflix subscription online.
Share on Facebook