Use iPhone call silencing to put an end to all spam calls and unsolicited texts
Spam calls, robocalls, or whatever you call them have become incredibly profitable and so getting calls from such unknown numbers has become an inevitable nuisance. The easiest thing to do is ignore them and if you have an iPhone, you've got a useful feature that can help you out–iPhone call silencing. You can deploy this option to put an end to all spam calls and annoying unsolicited texts.
How to use iPhone call silencing to put an end to all spam calls and unsolicited texts
iPhone call silencing makes use of Siri intelligence to allow calls to ring your phone from numbers if they are saved in Contacts, Mail, and Messages. Any number that cannot be found in one of the above places will be routed to voicemail. The good thing is you don't need to use any third-party app for this purpose.
Tap the Settings icon on your iPhone Home Screen and scroll down to the Phone settings option. Tap it to expand the menu of options.
Under Phone settings, move to the Calls section. Tap the Silence Unknown Callers option. By default, it is off. To enable it, tap the option to go to a separate screen and configure it.
When directed to the Silence Unknown Callers screen, toggle on the switch. Calls from unknown numbers will be silenced, sent to voicemail and shown under the Recent list of contacts.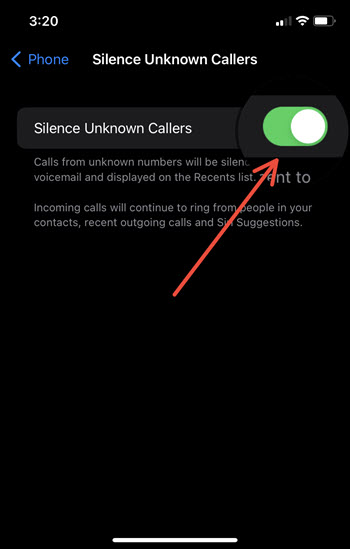 Now, your iPhone will only ring if you know the person calling. Everyone else will go straight to voicemail.
So, if you find Spam calls getting way out of hand, enable this feature. Also, it is important to say here that while silencing calls on iPhone, cuts way down on unwanted calls, you might miss some important calls you were expecting. And if you don't want to push these types of calls to your voicemail, disabling call silencing is pretty easy. Just toggle off the 'Silence unknown callers' option.
Share on Facebook