Edit your WhatsApp Messages using the built-in Edit function
No matter how tempting it is to rely on spell check tools to catch all our goofs, we still have a flair for typos and despite our best efforts to avoid them, lots get through. So, it's up to you to correct the error by doing careful proofreading of your messages. That's where the new 'Edit' option in WhatsApp finds its potent use. It lets you easily edit your WhatsApp messages for the moments when you make a mistake. Similarly, it works in instances where you would like to add some extra context to your message that has already been sent.
How to edit your WhatsApp messages in iOS?
Spell-check tools have their limits. They are just capable of spotting words that are misspelled (your instead of you're). However, if you add a wrong word altogether (mature instead of nature), spell check fails to catch it. The good thing is you can proofread or edit your WhatsApp messages as many times as required until you get them right using the new Edit option.
Launch the WhatsApp and open a chat. Select the message you want to edit by press and holding it.
Tap the Edit option displayed under the message context menu (on iOS).
Type the new message you want to send in the text field. You can do it as many times as you want within the set 15-minute time limit. Tap the blue check mark button next to the text box. Your edited message will be saved.
You'll see a prompt bearing the following message – This message was edited for everyone in this chat on the latest version of WhatsApp. Hit the Ok button to continue.
Edited messages will be marked as Edited alongside texts. It's just to show those you're messaging are aware of the correction. There will be no Edit history visible though.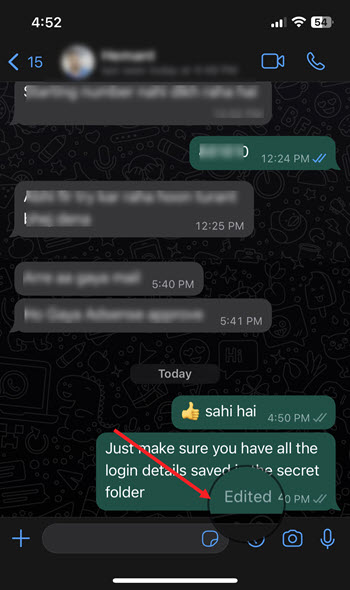 What about the privacy of the messages?
You don't need to worry about the privacy as all your personal messages, and the edits you make to them get end-to-end encryption protection. You can also lock your individual or group chats or switch on the temporary messages feature for more privacy.
The WhatsApp Edit feature has started rolling out to users globally and should be available to everyone in the coming weeks. If you do not find it even then, try updating the app.
For more information, you can visit WhatsApp blog. If you have any questions, let us know them in the comments section below.
Share on Facebook