An easy way to tweet 4K images from your Twitter mobile app
Humans are inherently social creatures and for that reason, most of us don't mind sharing our images and videos on social media. It helps us build or maintain social relationships but the quality of images has to be optimal. Twitter can be that platform as it gives users an option for sharing high-resolution images. See how to tweet 4K images from your Twitter app.
How to tweet 4K images from your Twitter app
To tweet 4K images from your Twitter mobile app, you just need to update your high-quality image preferences in Data usage settings. However, finding this setting can be a task for users who are new to the platform. For them, we have this guide designed. Just read along and start uploading high-quality photos no matter where you are.
Launch the Twitter mobile app. Tap the Search icon at the bottom of the screen. Go to Settings, visible as the cog-wheel icon in the upper-right corner of the app screen.
This setting lets you manage how the Twitter content is displayed to you. Select to expand it.
When directed to a new screen, scroll down to the Data usage entry. Hit the side arrow to expand its menu of options.
To start uploading and viewing images in 4K, you'll need to change the default option from Never to Cellular or Wi-Fi.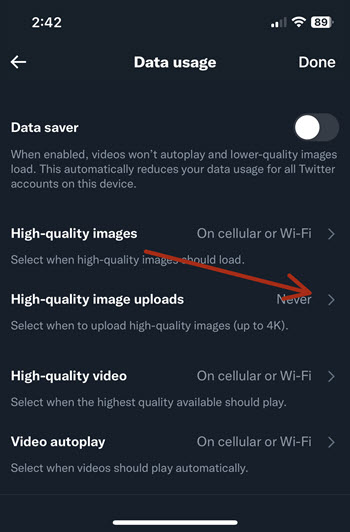 As shown in the image below, check the On cellular or Wi-Fi option and exit the High-quality image uploads screen to allow the changes to take effect.
Now, if you have a collection of images and videos in high resolution waiting to be shared, just start uploading them to Twitter and experience the best quality 4K Twitter images on your social feeds.
Prior to this change in scheme, users could upload images at a lower resolution of 2048 x 2048 pixels, nearly half of what's permissible for the Desktop variants (4096 x 4096) pixels.
Also learn: How to turn iPhone Live Photos into Twitter GIFs.
Share on Facebook