Setting up your Echo Show as a photo frame through Alexa app
Echo Show supports a image frame mode that can be configured to show a rotating collection of your personalized photos from Facebook. To make it work, you just need to link your Facebook account with the Alexa app. So, if you already have the Alexa app installed on your smartphone and your Amazon account active, follow these steps to use your Echo Show as photo frame.
How to use Amazon Echo Show as photo frame?
The smart display from Amazon packs a few very useful customization options, including the ability to showcase your favorite photos from Facebook. So, if you're bored looking at its static display which typically shows some landscape photos from around the world, it's time to give it a spin. Here's how you can set up your Echo Show as Photo frame.
Launch the Alexa app on your Smartphone and tap Menu to display a list of options therein. Select Settings and then navigate to Photos under Alexa preferences.
Expand Photos settings and then to link your photo accounts with Alexa, scroll down to the Accounts section. Tap the Link account link next to the Facebook option.
When prompted to enter your email ID and password, enter the details, correctly.
When directed to a new screen, tap the Launch button. After a few seconds, you should see a confirmation message reading, Your Show my Facebook Photos account has been successfully linked. It indicates, you are now ready to setup your Facebook photos on your Echo Show.
To make Echo Show display your Facebook photos, select your device.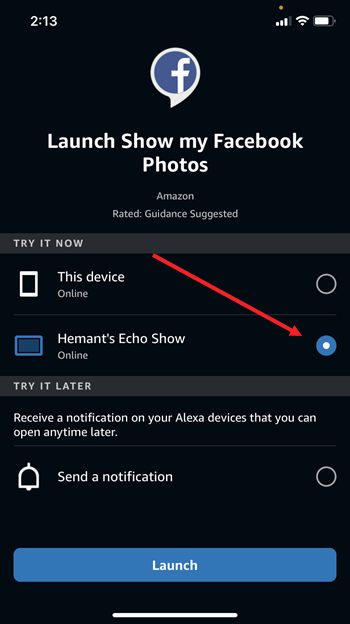 Close the Alexa app and switch to your Echo Show. Swipe down from the top on the main screen to show different options. Tap the Photo Frame icon.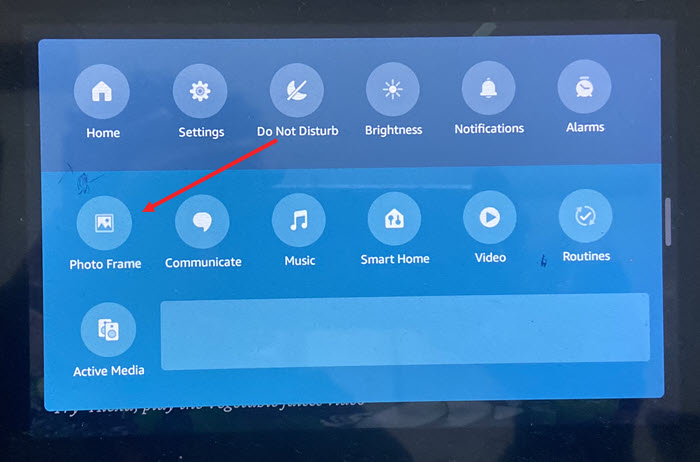 To finally turn your smart display into a personal photo gallery, select a collection, Facebook in this case. Other options visible are Amazon Photos and Amazon Collections. You should start seeing the images on the screen.
Proceeding further, select an album from your Facebook account. The options available are Mobile uploads, Profile pictures, Timeline photos and Cover photos. Select the desired option by checking the box next to it and hit the Start photo frame button.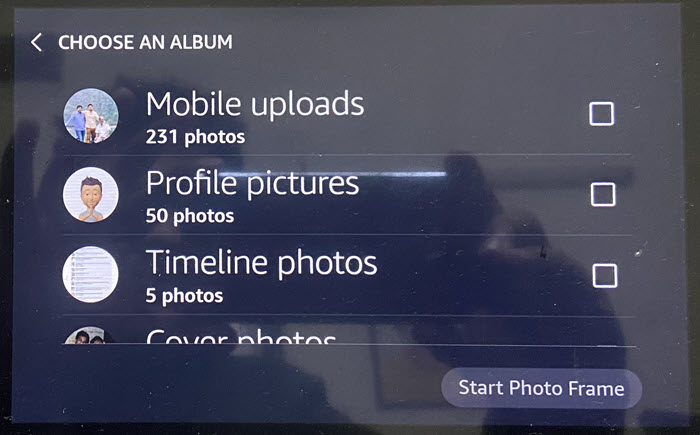 Echo Show Photo Frame availability
Previously, the image frame option was available only in Echo Show 15, but now any Echo Show display can do it. In all, it's a good option to put all your wonderful images outside, on the device when you're not using it to listen to your favorite music or stream your favorite TV shows & videos.
Also read: How to use Alexa hands-free mode.
Share on Facebook