A direct way to make phone call from MacBook
When your iPhone isn't within reach, you can make a phone call from Macbook directly using the FaceTime app. Just make sure you have the necessary settings enabled and logged in to the FaceTime app using your Apple ID.
How to make a phone call from MacBook?
Time needed: 7 minutes
Apple's new Continuity feature allows you to move seamlessly between your devices so if you want, you can start tasks on your iPhone and then pick them up on your MacBook and vice versa. So, if you want make a phone call from MacBook or receive an incoming call on it, here's how to set it up!
Enable Wi-Fi calling

On your iPhone, go to Settings, expand the the Phone settings and enable the Wi-Fi calling under the Calls section by toggling on the Wi-Fi Calling on This iPhone switch.



Turn On Calls on Other Devices

Once you enable the Wi-Fi Calling on This iPhone setting, Calls on Other Devices entry should appear under the Calls section. Turn it On. This will allow you to receive calls using your other devices. However, it will only work when you have other devices connected to the same Wi-Fi network as your iPhone.



Go to FaceTime Preferences settings on MacBook

After you have enabled Wi-Fi Calling on your iPhone, open FaceTime on your Mac. You might be prompted to turn on Calls from iPhone on your Mac. If not, then, go to the FaceTime app, and choose FaceTime > Preferences.



Check the Calls from iPhone box

Switch to the Settings tab and check the Calls from iPhone box.



Make a FaceTime call

Call up someone from your contacts list by accessing the FaceTime App and clicking the FaceTime icon, next to the person's name. Wait for the recipient to accept the call and get connected.


How to receive phone calls on Mac?
When there's an incoming call and you see the notification in the top-right corner of your Mac screen, you can take one of the following actions,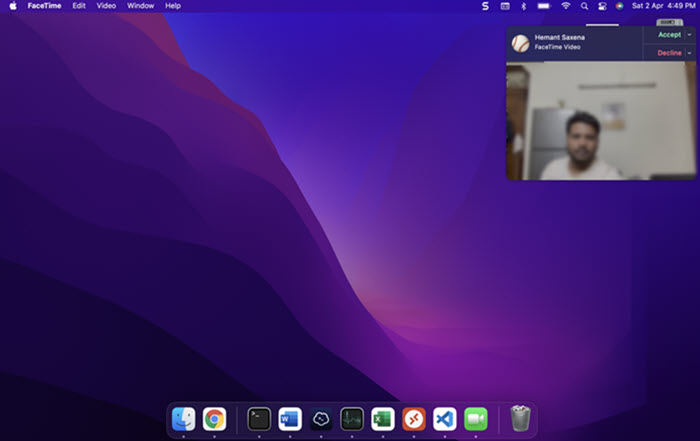 Accept an incoming call – Click Accept to start communication.
End Call – Once you have finished talking over FaceTime, tap End Call to hang up.
Decline a call and send a message using iMessage (Click the down arrow next to Decline, choose Reply with Message, type your message, then click Send button.
Decline a call and set a reminder to call back later: Click the down arrow adjacent to the Decline option, then select how long you want to wait to receive a reminder.
Cannot Turn On Calls on Other Devices?
If you are unable to make or receive calls on other devices, check if FaceTime and iCloud are signed in using the same Apple ID. If it's different you'll have problems connecting with your contacts.
Share on Facebook