The Dialogue Boost in Prime Video creates a more accessible streaming experience
A lot of times it is difficult to hear characters talking in a scene amid popping bullets and the soaring sound of objects in the background. Having no other option, users switch on subtitles to make sense of the mumbled audio and understand what's being said. It's one of the major gripes for streaming viewers. Fortunately, Amazon has come up with a solution – Dialogue Boost in Prime Video.
How to enable the Dialogue Boost in Prime Video
Described as industry-first innovation, the feature lets users increase the volume of speech relative to background noise, making the dialogues in your favorite movies or TV shows audible. How is this done? Using Artificial Intelligence, the Dialogue Boost in Prime Video cleverly identifies moments or scenes where speech might be drowned out. It then splits such portions of discourse and enhances them in isolation rather than amplifying everything. The result you get is a dialogue boost and word sound that is crisp and clear.
Enabling the Prime Video Dual Boost function is just a 3-step process. Assuming you are a Prime member and have the Prime Video app installed on your device, launch the app and pick an English-language Amazon original.
You can turn on Dialogue Boost by going to the audio and subtitle drop-down menu while in playback. It's visible in the upper-right corner of the app screen.
You have the option to choose between English Dialogue Boost: Medium and Dialogue Boost: High. Select the desired option to make your streaming experience much better.
Enabling Dialogue Boost via Web
The method to enable Dialogue Boost for Prime Video on Web is very similar to app method. Just Sign-in, select an Amazon Original title and go to the audio and subtitle drop-down menu to access the Dialogue Boost option.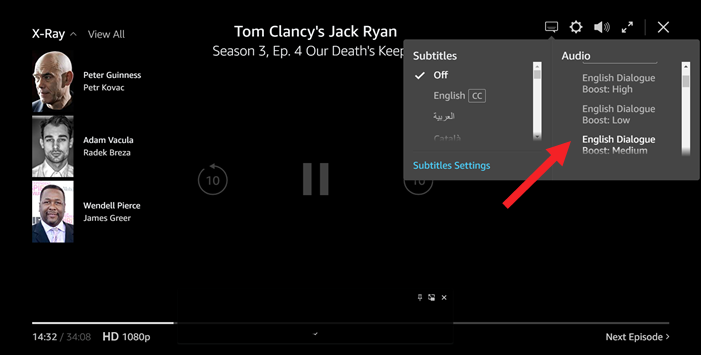 Note: You can listen to the improved audio on any device that streams Prime Video. In that sense, it's not device-dependent like some other solutions. You can check out Dialogue Boost for yourself on a limited selection of originals. The detail page for a title will help you find if Dialogue Boost is available for it or not. Hope you know how to remove your Prime Video Watch History?
Is Amazon the only platform that supports Dual Boost technology?
Similar capabilities do exist in high-end theater systems, sophisticated audio equipment, and some internet-connected smart TVs. However, Prime Video is the first OTT platform to offer such a feature.
Initially built for people who are hard of hearing, the Dual Boost technology is now available worldwide for anyone looking to adjust their listening experience. Also learn how to start Prime Video Watch Party.
Share on Facebook