Best Apple MacBook compatible wireless mouse that work seamlessly with macOS
Any Apple MacBook compatible wireless mouse is comfortable to use compared to a wired mouse. However, if you're not a tech-savvy person, you might feel overwhelmed by the hordes of options that are available for you to choose from. Therefore, to save your time and efforts, we've done all the research work for you. Below, you'll find the list of the Five best wireless mice for your MacBook.
List of 5 best Apple MacBook compatible wireless mouse
There's a big list of Apple MacBook compatible wireless mouse accessories that offer features and benefits you won't find elsewhere. So, whether you're looking for a little bit of that classic touch from Apple or something totally new, here's a list of some of the best wireless mouse you can choose from.
Apple Magic Mouse
| | |
| --- | --- |
| Pros | Cons |
| Works seamlessly with every MacBook | Lightning port charging placement |
| Good battery life | Expensive |
While the trackpad on the MacBook Pro is excellent, users may benefit a bit more from the tactility of the Apple Magic Mouse.
The glossy multi-touch surface at the top of the mouse works just like a trackpad. You can use it to register clicks by tapping or use gestures to scroll and swipe between apps to get your work done.
The mouse itself connects to your MacBook instantaneously. Just turn on the Power Switch on the rear-side.
Then, select the name of your device by navigating to the Bluetooth menu under the System Settings.
The Apple Magic Mouse has a month-long battery life, so you don't need to worry about charging it often. However, when you do, you'll find one fatal flaw in it – the Lightning port to charge it is on the bottom of the device.
You'll have to flip the mouse to the side and plug it in. This makes it completely unusable while charging.
Logitech MX Master 3
| | |
| --- | --- |
| Pros | Cons |
| Customization through the Options app | For right-handed users only |
| Horizontal scrolling | |
| Long battery life | |
Pairing a wireless mouse to your MacBook Pro will require either a USB dongle or a Bluetooth connection. Logitech MX Master 3 can do both.
It has a curved surface that will fit the palm of your hand very well, along with some extra space to rest your thumb. In addition, you'll find a scroll wheel between left/right buttons that works in two different modes.
High-speed mode–It is useful for zooming through web pages or files.
Slower mode–It allows greater precision and tactile feedback.
There's a second wheel on the side of the mouse. You can use it to scroll pages horizontally and configure 2 additional buttons through the Options app to achieve more.
The Battery life of the Logitech MX Master 3 is also good when compared to Apple Magic Mouse. A single charge lasts around two months–twice that of Apple's Magic Mouse.
Pointer Instrument – Lunar Shadow
| | |
| --- | --- |
| Pros | Cons |
| Long-lasting and repairable | Heavy to use |
| Ergonomic Grips | Expensive for normal users |
| Track On Glass Sensor | |
The Pointer Instrument is a hand-assembled, hand-polished and hand-stitched wireless accessory that's built to last very long and be repaired when required. It has a Track on Glass sensor: Pixart PAW 3805 which allows the mouse to be used on any surface, including mirror finish and clear glass with 5mm thickness.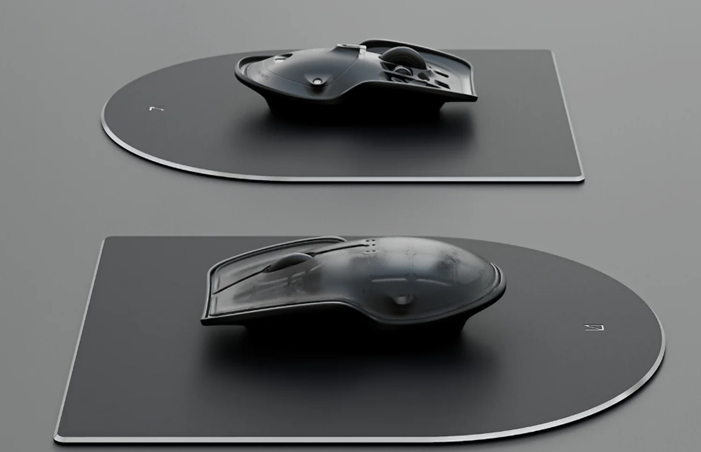 This macOS compatible accessory connects in both USB & Bluetooth mode and offers extended battery life of up to a month under normal usage. It also features solder less Japanese Omron switches with unique plug and play properties.
Pointer Instrument – Lunar Shadow
Satechi M1 Wireless Mouse
| | |
| --- | --- |
| Pros | Cons |
| Eliminates the need for single-use batteries | Slight delay when waking from sleep. |
| Aluminium-clad scroll wheel with a knurled texture for better grip | |
For wireless navigation control from up to 32 feet, Satechi M1 Wireless Mouse is a name you should consider. It pairs with your MacBook Pro via Bluetooth easily and offers seamless connectivity.
The top of the device is equipped with a pair of soft touch navigation buttons and an aluminium scroll wheel with a knurled texture that provides a better grip.
It's also equipped with optical sensors for precise tracking and fast scrolling when browsing the web, working, or playing.
The accessory uses USB-C protocol for charging, but unlike Apple Magic Mouse, you can conveniently use the Satechi M1 Wireless Mouse while it's being recharged. So, there's no downtime.
The curved appearance of the device makes it ideally suitable for both left and right-hand users.
Contour Design Unimouse Mouse Wireless
| | |
| --- | --- |
| Pros | Cons |
| Highly customizable thumb rest and mouse orientation angle. | Difficult to manage software utility |
| 3 programmable main buttons. | |
This wireless mouse appears quite different from the rest of the wireless mice mentioned above. It supports a unique hinge system that allows you to find an angle that mimics your hand in its natural posture.
Plus, a u-shaped thumb rest sticks out from the left side of the mouse. You can extend or retract it based on how large or small your hand is and select the perfect place for your thumb support.
Unlike the left- and right-click buttons you'll find on most traditional mice, there are 3 equal-sized buttons on Contour Design Unimouse Mouse that can be configured to perform desired functions.
There's also a built-in battery that can be charged by connecting the USB 3.0 cable to your MacBook
Pro.
So, if you are looking for the best mouse for your MacBook Pro and have a little more control than what the touchpad provides, try these Five best wireless mice and buy the one that suits you.
Share on Facebook