How do you change Alexa voice on your Echo Show
Apart from Alexa, you can choose Amazon, Echo or Computer as your wake words but the company doesn't seem to be very innovative when it comes to the names of the two core voices. The first one called 'Original' lends a female voice while the other named as New' has manly and a strong tone. As such, you can only choose between the two or switch to the 'New' version. Just say Alexa or whatever your wake word is, followed by 'change your voice'. However, if your voice assistant fails to respond, you achieve the same result through Alexa app. Here's how to change Alexa voice on Echo Show.
How to change Alexa voice for Echo Show?
If you are anything like me who has grown increasingly weary of Alexa's archaic feminine-sounding voice, the only choice you had for so long, switch to the new masculine-sounding voice. In addition, the tech bigwig does offer a few celebrity voices, like Samuel L. Jackson, Melissa McCarthy and Shaquille O'Neal, but for a price of $5 (each). So, let's see how to change Alexa voice on your Alexa-powered device like Echo Show. Before proceeding with the above changes make sure both your iPhone and the Echo device you want to change are connected to the Internet.
On your iPhone, launch the Alexa app on your mobile and tap the More menu located at the bottom right corner of the app screen.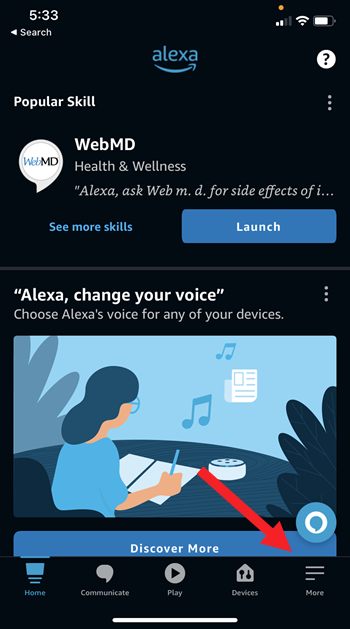 When directed to a new screen, locate the Settings option and tap to select it.
Under the Settings screen, scroll down to the Device Settings option and tap to expand it.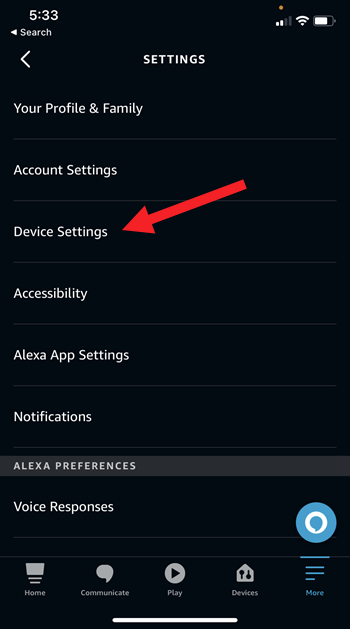 Under the list of devices displayed, choose your Alexa-enabled device (Echo Show in this case).
Hit the Cogwheel icon located in the upper-right corner of the screen.
Under your Device Settings screen, go to the Alexa's Voice heading and tap to expand it.
When directed to the Alexa's Voice page, check the New option to switch to a different voice. Here' you can also adjust the speaking rate i.e., how fast Alexa speaks by dragging the slide to left (Slower) or right (Faster).
When finished, try asking Alexa a question to confirm the changes. You should find it answering in a different voice. Likewise, you can also make Alexa utter something in a whisper mode. Also read how Alexa Hands-free mode can be used to make Alexa open apps on your phone, without having to touch it at all.
Hope it makes sense!
Share on Facebook