Making your Instagram account private to deal with unwanted comments or requests
So, long platforms like Facebook and Instagram exists, creepy people will continue to take up space in your digital circle and showcase their intent on stalking or trolling you in some way. Fortunately, dealing with their unwanted comments or requests far more often than you want to respond is not hard to deal with. If the messages are just a bit pesky you can dismiss them as a misdemeanor and react with an emoji. However, If they are designed to mount a full-on hateful attack, you should favor taking more passive aggression by making your Instagram account private.
A guide to making your Instagram account private
Interaction on social media can sometimes bring you unwelcome attention from people you'd rather not keep up any correspondence with. Worry not, keep cool, and make your Instagram account private. It not only reduces the chances of getting contacted out of the blue but also makes the platform a more hospitable place.
Open the Instagram app on your iPhone and navigate to your profile. Tap the hamburger (3 horizontal bars) icon in the top-right corner and select Settings.
When the Settings and Privacy screen appears, tap the Account privacy heading to expand it.
If your account is set to Public, your profile and posts will be visible to anyone, on or off Instagram.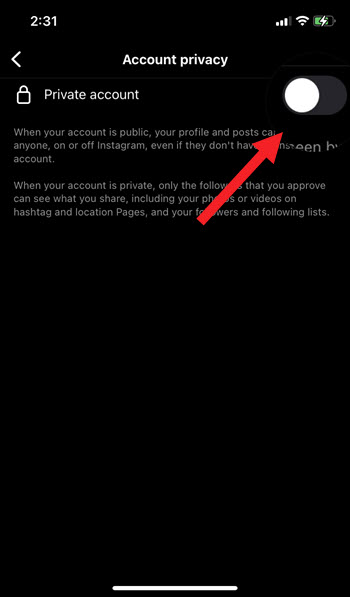 Toggle On the switch next to the Private account option to switch to the Private mode.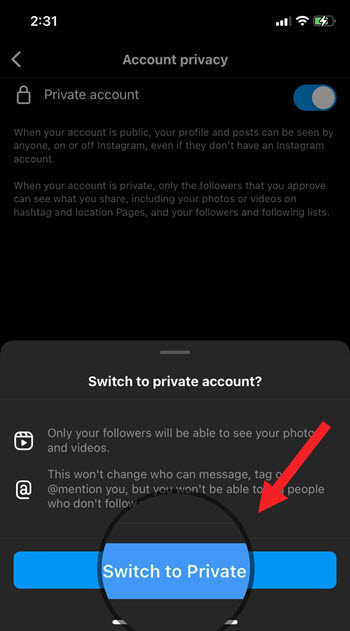 Hereafter, only your followers will be able to see your photos and videos. You can even review your followers list.
How to make Instagram account private on Mac
Click the More menu in the bottom left, then click Settings.
Choose the Who can see your content option.
Below Account Privacy, click to check the box next to Private Account.
Tap Switch to Private to confirm.
Remember that business profiles can't make their accounts private. So, if you run a business account that you want to make confidential, first switch back to a Instagram personal account.
Apart from the above, you can also turn message requests off so you don't get messages from strangers or control who can comment on your posts by moderating comments settings.
Hope that helps!
Share on Facebook