Whisper mode in Alexa cleverly lowers the digital voice-assistant's volume
The new Whisper mode in Alexa avoids triggering loud responses in quite environments. It's especially useful when you don't want to wake up your spouse or partner unintentionally while asking Alexa to turn your alarm off or prompting the same action in other similar situations.
How to switch to Whisper mode in Alexa?
The digital voice-assistant can not only be useful in controlling several gadgets but also recognizing voices or commands when they are whispered to it. That way you don't need to shout or rather speak at normal volume. Just whisper to it in low voice and it will still oblige to your request. Here's how to switch to Whisper mode in Alexa via app.
On your iPhone, launch the Alexa app by tapping its icon on the Home Screen and switch to the More menu at the bottom of the app screen. It's visible as 3 horizontal bars.
Under the list of options displayed, go to the Settings option and tap to open it.
Under the Settings app, scroll down to the Alexa Preferences section. There, choose the Voice Responses heading to expand it.
When directed to a new screen, look for the Whisper mode entry. Slide the toggle next to it to the On position to enable the Whisper mode.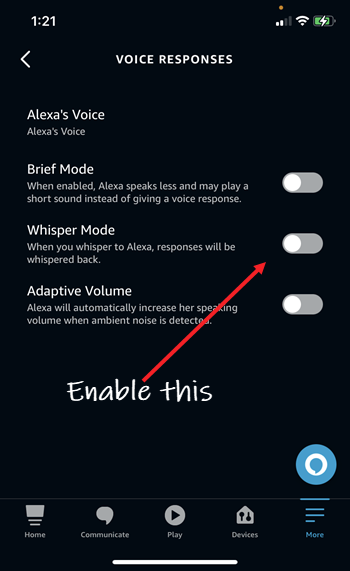 Hereafter, when you whisper to Alexa, responses will be whispered back. However, make sure that there are no loud sounds in the background. If you whisper and there are sounds in the background, Alexa will speak at normal volume.
How does Alexa Whisper Mode work?
When you are whispering, you are using your breath rather than your throat, especially for the sake of secrecy. Alexa's new whisper mode lets Alexa-enabled devices respond to whispered speech by whispering back. It relies on a sophisticated long short-term memory (LSTM) network.
The network learns which signal attributes are most useful for whisper detection by breaking down input utterances into overlapping 25-millisecond segments called "frames". It then processes these input utterances in sequence and discriminates whispers from normal speech, successfully.
Share on Facebook