5 Signals that indicate it's to replace your Apple Pencil tip
Just like a standard pencil, the Apple Pencil tip will need to be replaced every so often however, you'll need to switch out the tip, unlike a graphite pencil where you must strip about an inch of wooden casing from around the tip. If the process is not so apparent to you, this guide will help you out. It explains to you when you should replace your Apple Pencil (1st and 2nd generation) tip, along with simple instructions for doing so.
How to know when to replace your Apple Pencil tip?
After long and prolonged use, the Apple Pencil tip gradually wears down and you might find its smooth glide turning into a clunky drag. In worst case, you might even see the metal underneath the otherwise smooth surface – a strong signal indicating it's time to replace your Apple pencil tip. There can be other signs as well that will prompt you to keep extra tips ready, if needed. These include,
Hard-pressing the tip while writing or drawing – Although Apple Pencil is sturdy enough to withstand rough work or treatment, the tip plastic material is more flexible and can chip off anytime if you hard-press it while writing or drawing. As such, you should always keep an extra pair ready with you.
Roughness starts hurting the screen cover or actual screen: If there's any wearing down of the nib, you might experience some itchiness or roughness while drawing. It may become worse with the passage of time, indicating there's actual finish damage. You should not wait to order for a replacement then.
Abrasive surface when running a finger over the tip: If the pencil tip feels rough when you run your finger over it, discard the tip. It is nearing its end. This mostly happens when you drop the pencil, accidentally or you scribble it over a surface other than your iPad screen.
The pencil is not responsive enough – Your Apple iPad is designed to work with the Pencil flawlessly. So, if there are occasions where you need to tap hard, or re-tap to register your input, get the tip replaced before it's too late.
There's a slit in the middle – If you notice that there's a cut on the inside of the tip, it's time for a new point.
How to replace your Apple Pencil tip?
Fortunately, Apple offers an extra Apple Pencil tip at no extra cost. You can find it in the original packaging box. If you have the box with you, open it to find the extra tip inside the paper sleeve along with a Lightning adapter. If you would like to buy a few extras, pick up a set from the Apple Accessories products shop.
The second-generation Apple Pencil does not include an extra tip in the box like its predecessor. So, check if your Apple Pencil box has an extra tip.
Use your finger nail to separate the backing from the label and remove the tip from the Pencil box.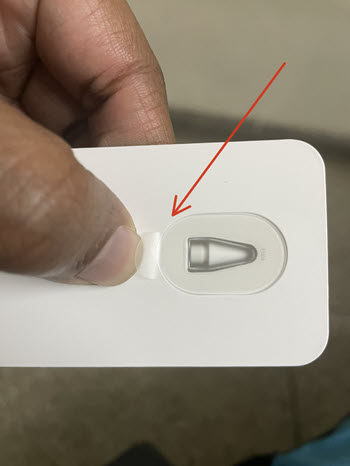 Hold the Apple pencil in your hand and unscrew the nib in a anti-clockwise direction until it's removed completely.
Place the new tip at the pencil's tail-end and screw it in the clockwise direction until it feels secure.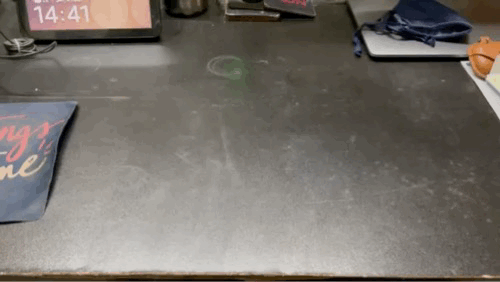 So, if you have a couple of spares, you can use one of them as your Apple pencil tip replacement. That way you can make your stylus feel as responsive as possible and smooth when you use it. Here's also a trick to check your Apple Pencil battery percentage.
Share on Facebook