How to find if I have an Apple Watch GPS+Cellular
What good is having an Apple Watch if you can't tell its type. Agreed, all Apple Watch models look very similar. So, on the first look, it's very hard to guess whether your Apple Watch is just GPS enabled or supports cellular connectivity also. However, careful physical observation can reveal its connectivity status i.e., is your Apple Watch GPS+Cellular enabled or supports GPS only.
Find if your Apple Watch is GPS+Cellular?
Before knowing your Apple Watch is Cellular+GPS, it's important to know the difference between the two. While the GPS-only model has a built-in GPS, you'll need to lug your iPhone around all the time to make it work and access any of the internet-based functions like texting, answering phone calls, or receiving notifications. As opposed to this, the Cellular model has built-in GPS as well as a built-in eSIM. So, you can connect your watch directly to a cellular network, using it as a standalone device to perform the same functions as that of the GPS model but without having an iPhone near you. You can even talk to other compatible Watch users with the Walkie-Talkie app. Now, let's see 3 ways to determine the connectivity status of your Apple Watch.
Physical observation.
Rear-side view.
Service and Support Coverage page.
Please see: If you want to have an Apple Watch with a longer battery life even if it requires you to keep your iPhone nearby all the time, you can choose the GPS-only version. However, if you want the convenience of Apple Watch as a standalone device and enjoy a few additional features, switching to the Cellular variant makes more sense.
1] Physical Observation
This is the simplest method of all to find if the Apple Watch you own is Cellular+GPS enabled. Just look at the Digital crown of your timepiece. There's always is a red ring around it on the Cellular model. If yes, it's GPS+ Cellular.  If not, it's GPS only.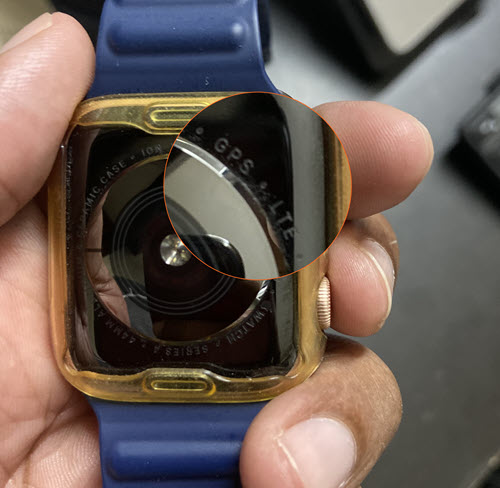 2] Rear-side View
If you're wearing an Apple Watch, remove it and switch to its rear-side view. Then, check the engraving on the back of your Apple Watch. For example, my Apple Watch's engraving reads 'SERIES 4, 44MM ALUMINIUM &CERAMIC CASE ION -X GLASS GPS. LTE'. Apple Watch supports LTE and UMTS bands for cellular service. So, if you notice either of the two texts engraved on the rear side of your watch it means you have an Apple Watch GPS and Cellular model.
3] Service and Support Coverage page
Though this page is meant to review your Apple warranty status and eligibility to purchase additional AppleCare coverage, you can use it to find the connectivity status of your Apple Watch.
Visit the page.
Enter the serial number of your watch and the Captcha.
When directed to a new page, read the description.
If the model supports Cellular+GPS connectivity, you should see the 'Cellular' label against your Apple Watch.

Does cellular Apple Watch need a SIM card?
No, the Cellular model has a built-in eSIM that lets you connect your watch directly to a cellular network. So, unlike a regular SIM, an eSIM doesn't need to be removed or inserted. Simply enable the eSIM in your Apple Watch by following the instructions from the carrier (same as on your iPhone). Thereafter, you can use it independent of your iPhone.
Share on Facebook