Use Watch Party on Prime Video  to stream TV & Movies With Friends
You no more need to use any extension to host movie nights with your friends. Simply enable the Watch Party on Prime video and enjoy the experience. Here's how to set up a watch party and chat with your friends and family.
How to start Watch Party on Prime Video
Watch Party on Prime Video lets you create a virtual theatre-like experience. One person can be the host and control all the movie-related options from his device while inviting others to join the party. You can also create a watchlist to pick preferred content for streaming so that you don't have to rummage through the wide list of choices.
If you are an Amazon Prime subscriber, launch the Amazon Prime video. Browse to a suitable title from the Detail page (Titles showing Prime Logo or Watch Now with Amazon Prime option under video details). You should see a Watch Party button. Click it!
Enter your name under Chat As window. Next, hit the Create Watch Party button to chat, watch movies or TV shows with others.
Once you've set up things, a link will become on your device's screen. Tap the Share button next to it.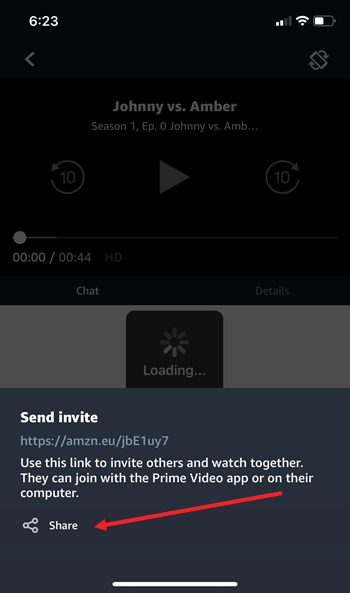 Select Contacts from the Contacts list or use Messages to send the invites.
The invitees should receive a link on their device with a Prime Video label. Upon tapping the link on their device, they'll be directed to the Prime Video app. So, it's essential for them to have access to eligible Prime Video titles included with their Prime Membership.
The host can verify if the invitees have joined as their names will become visible under his device's screen.
Start watching and chatting. The host can control playback options like pause, play, rewind, and fast-forwarding. Participants can control other settings like audio and subtitle settings.
Amazon Prime Video Watch Party availability options
You can end your session anytime by hitting the End Watch Party button. It is important to note here that browsers like Safari and Internet Explorer (IE) do not support the Watch Party experience on their platforms. Also, it does not work for titles you buy or rent.
Hope that helps!
Share on Facebook