Enable Chrome scrollable TabStrip on MacBook to easily scroll through your open tabs
When you have dozens of tabs opened in Chrome, the browser deliberately shrinks the size of the tabs to accommodate all the tabbed pages. This makes it difficult for a user to juggle between them. Fortunately, you don't need an extra app to manage them. A new tab-management feature – Chrome Scrollable TabStrip introduced in the browser simplifies the task as it makes the tab strip scrollable.
How to activate Chrome Scrollable TabStrip on a Mac computer?
You'll need to visit the chrome://flags page to activate Chrome Scrollable TabStrip. It's a place for options that aren't necessarily intended for mainstream use and therefore could change a lot as we speak or even disappear down the road. However, at the time of your reading, if the option does exist and you enable it, you should see the tab previews in action, once you hover the mouse cursor over them.
Launch the Chrome browser. Make sure you are running the latest version of the browser. In the URL bar of Chrome, type chrome://flags and hit the
In the Search flags search bar on the Flags page, type #scrollable-tabstrip. When the feature is visible, click the drop-down menu adjacent to the option.
Select the Enabled option to change the Default status. Restart Chrome to allow the changes to take effect.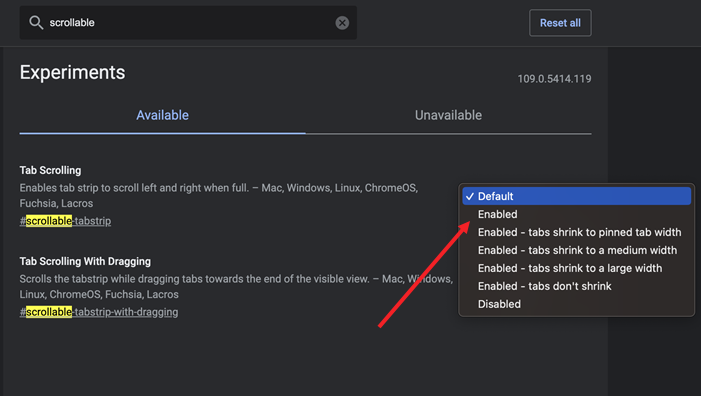 Once done, it will allow users to access tabs by scrolling when they no longer fit in the tab strip. It works on all major platforms, including Mac, Windows, Linux, and Chrome OS. To undo the changes, select the Disabled option. In addition to the Enabled option, you can choose between four additional settings:
Enabled – Tabs shrink to pinned tabbed width.
Enabled – Tabs shrink to medium width.
Enabled – Tabs shrink to large width.
Enabled – Tabs do not shrink.
Experiment with these settings to see which works best for you. Remember, it is still an experimental option and may not make its way to the stable version of the browser.
Scrollable TabStrip not working?
In the Chrome browser, the feature is not enabled by default. You'll need to do it by changing the default status of the #scrollable-tabstrip via the chrome://flags page.
Hope that makes sense!
Also read about how you can play the endless runner game on Chrome
Share on Facebook