Verify if your Apple MagSafe charger is real or fake in minutes
Most sellers in the online marketplace claim that the product they sell is genuine and verified but quite often, customers end up buying counterfeit products from them. Apple's very own MagSafe charger is a case in point. So, if you are wondering how to verify if the Apple MagSafe charger you purchased is real or fake, this guide might help you find it out in minutes.
How to verify if your Apple MagSafe charger is real or fake?
The Apple MagSafe charger maintains compatibility with Qi charging. As such, it can wirelessly charge an iPhone (iPhone 8 or later models). Besides, it can also charge AirPods that come with a wireless charging case. So, if you are shelling out your hard-earned money on this new charging accessory, you wouldn't want it to be labeled as a convincing clone. Follow these steps to verify its genuineness!
To find out if the charger is a counterfeit product, do the following. Connect the charger to your iPhone. The charging animation should appear on the screen.
Go to the Settings app and tap the General option. Then, select the About entry.
Under this heading, you should look for the Apple MagSafe Charger entry.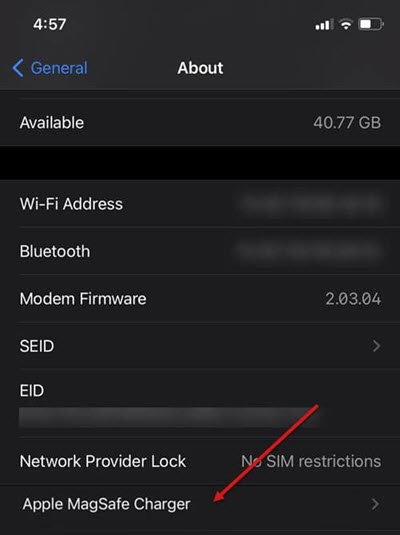 Simply tap the entry to reveal information related to the charger like its Model number, Serial number, Firmware version, etc.
It's the last entry we are interested in since Apple occasionally sends firmware updates to accessories over the air that contain bug fixes and improvements. As such, you can check if your charger is up-to-date and thus, genuine, or fake.
If the charger is fake, no menu will appear under the About section. For Apple-sanctioned third-party ‌MagSafe‌ accessories like Belkin's offering, you won't find the firmware version or model number. However, this does not indicate the charger isn't genuine, it's just a shortcoming!
What is MagSafe?
Apple describes MagSafe as a newly built ecosystem of accessories for easy attachment and faster wireless charging. It supports endless combination cases & covers, sleeves, wallets, wireless chargers, and more to match your style.
How fast does the MagSafe charger charge?
The MagSafe charger makes wireless charging a hassle-free process but it isn't quite fast. When connected to an iPhone 12 or iPhone 12 Pro, its perfectly aligned magnets attach firmly to the rear side and charge an empty phone only up to 35 % in 30 minutes.
In comparison to this, the new 20-watt charger from Apple with a Lightning connection charges the same empty iPhone up to 60% in 30 minutes. That's almost 2X more efficient!
Share on Facebook