An alternative way to check your MagSafe Battery Pack Serial number
The MagSafe Battery Pack serial number is printed on the rear side of the accessory. It is located below the magnetic ring and can be hard to spot for a person with poor vision. That necessarily does not mean you should be using a magnifying glass to read the fine print. There's an alternative way to check it through your phone's settings.
How to check the MagSafe Battery Pack Serial Number
Knowing your MagSafe Battery pack serial number becomes all more important if you want to replace it with a new one when it's not working or find out if the unit you purchased is real or fake. In general, Apple-branded products are warranted against defects in materials and workmanship for a period of ONE (1) YEAR from the date of the original retail purchase.
Attach the battery Pack to the back of your MagSafe-compatible iPhone model.
On your iPhone, go to Settings and select General.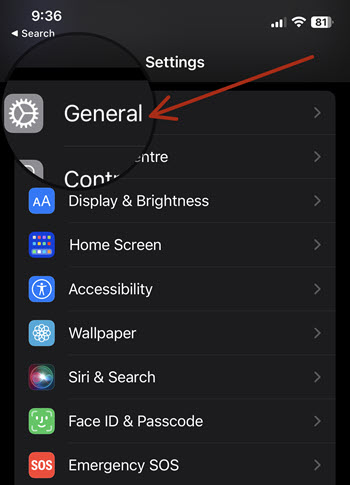 Under the General section, expand the About section.
Under the About screen, tap the MagSafe battery pack entry. Check the Serial number.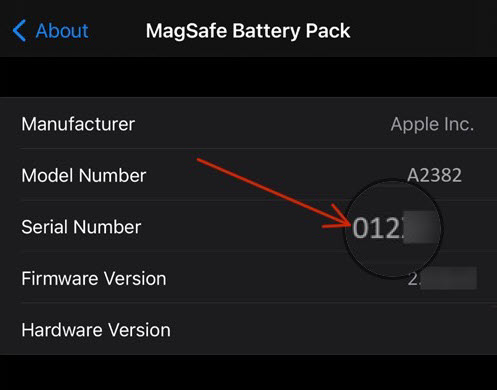 MagSafe battery pack offers the convenience of magnetically charging your iPhone without cords and can charge it quite fast. That means less time with your phone attached to the battery pack and more hours of usage.
Why is a Serial number important?
Once a product or component gets a serial number it becomes easier to track it or trace it right from point of origin to the customer via this unique numeric and alphanumeric code. So, if there's any fault with the product, the SN number can provide the means that assists in addressing warranty claims or recall it to correct the defect.
Hope that helps!
Share on Facebook