How to use iPhone as remote control for Apple TV
Misplaced the remote control that came with your Apple TV?? Worry not, you can still manage all its functions by setting up iPhone as remote control and use it as an alternative to your Siri remote. So, if the idea of turning your smartphone into an unobtrusive accessory for Apple's home entertainment system excites you, follow this guide to find out how it is done!
iPhone as remote control for Apple TV and Siri Remote alternative
You can use iPhone as remote control and access all important functions of the controller by setting up its shortcut under the Control Center. All that is required is an iPhone, running iOS 12 or later and connected to the same Wi-Fi network as your apple TV. Once setup, all the remote functions will be activated on the iPhone automatically. That way, you can ditch all the extra apps and simply use your iPhone as your new remote.
Go to the Settings and expand the Control Center Settings under it.
Scroll down to the More Controls section and, tap the + icon adjacent to Apple TV Remote option.
Swipe down from the top of Home Screen to open Control Center. Locate the Remote icon and tap to open it. This will turn your phone into a TV remote.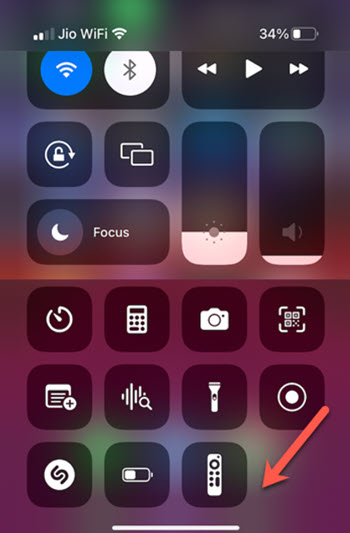 Select your Apple TV when it appears on the screen. Your iPhone will be ready to be used Apple TV remote.
Here's how its controls appear. Additional controls become visible during playback. Tap the Skip Back button to skip back 10 seconds or tap the Skip Forward button to skip forward 10 seconds.
So, if your living room is a hodgepodge of scattered clothes, books and gadgets and there's good chance of misplacing essentials like your Apple TV remote, keep this option of using iPhone as remote open.
Apple TV remote not working on iPhone
To make sure that your iPhone works as the TV Remote, check the following.
Verify that both devices are on the same home network.
Verify that both devices have up-to-date system software.
Try restarting both the iPhone and Apple TV.
It is particularly noteworthy to mention here that the Apple TV Remote in Control Center works only with Apple TV 4K and Apple TV HD. If you have an Apple TV (3rd generation), you'll have to use the Apple TV Remote app to control your Apple TV.
Hope that makes sense!
Share on Facebook