Voice memos for Apple Watch offers an easy way to record ongoing conversations
iPhone lacks the option to record an active call through its built-in microphone. So, while you are talking, you just can't hit record and start recording any ongoing conversation. To make that happen, you'll either require an external iOS-compatible device with audio recording functions or some third-party app with the same capability. That's acceptable but most of these options come with a subscription fee attached. As an alternative, you could simply use voice memos for Apple Watch. It's free and a very convenient option for most iPhone users who wish to record their conversations.  Let's find out how it is done!
How to use Voice Memos on Apple Watch to record an ongoing conversation?
Just like your iPhone, your Apple Watch is also packed with productivity tools that make it more than a timepiece to keep tabs on time. As such, you can use Voice Memos for Apple Watch to record conversations, meetings, lectures, or a great idea that struck you this morning while jogging. It also seems to be the most accessible option to record an ongoing conversation on your iPhone. Just make sure to place your voice call on speakerphone for maximum volume and clarity. Also, don't forget to seek the other person's permission first.
Assuming, you have upgraded your watch to watchOS 6 or later, open the Voice Memos app on your watch.
Tap the Record button to begin your recording session. When done, press the Record button again to stop it.
Now, tap the recording to display it and tap the Play button to play it. You can adjust the speed of the recording by jumping 15 seconds forward or backward. Also, if you would like to edit the name of the recording, tap the Menu button visible as three dots and select the Edit Name option.
Type your new name either through Dictation or Scribbling option. If you would like to remove the recording from your watch's memory, tap the ellipsis icon and select Delete recording.
This is necessary since, if you fail to do it, the recording will automatically sync to your other supported Apple devices via iCloud.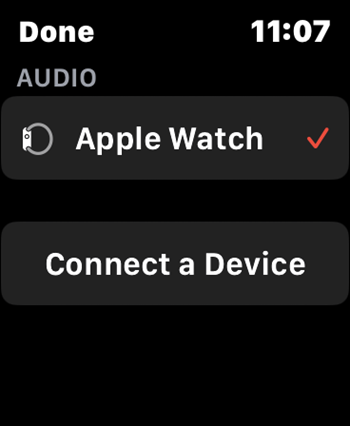 To test the recording, play it on your watch. You can always go back to the Recording screen and create another voice memo, afresh.
How long can Apple Watch record Voice Memo?
Your voice memos can be significantly long as there's no limit set by Apple. Some users claim, you can continue recording uninterrupted up to 90 minutes but may have trouble at the time of editing or playing back shorter files.
How much space does an hour long Voice Memo take up?
Just like photos, videos and any other digital file, voice memos take up the available storage on your device. As per some estimates, every minute of audio note recorded through the Voice Memo app requires roughly half a megabyte of storage space. So, a 90 minute of recording would require about 45MB of space.
Do Voice Memos have a time limit?
No, but the length of the message you can record is determined by the internal storage capacity of your Apple smartwatch.
Why do voice messages say kept?
If you are not aware, the "Kept" indicator beneath the voice message that occasionally graces your screen denotes the message hasn't expired as the recipient has chosen to keep it.
Hope that makes sense!
Share on Facebook