Rename AirTags to match the items they are attached to
Products that allow a bit of customization invariably give your investment added value. So, whether you want to give your apple AirTag a name that's more descriptive or simply change it to something that's easy to identify, you can rename your AirTags. Just make sure it matches the name of the item it's attached to or placed inside.
How to rename Airtags if you don't like the presets
For convenience, Apple offers a list of preset labels you can readily choose from. When you do so, it also adds the user's first name at the beginning of the tracking accessory. This makes the naming process super-fast. However, you can rename AirTags anytime. Follow along to find out how it is done if you've already set up your AirTags!
Launch the Find My App on your iPhone. Switch to the Items tab located at the bottom of the app screen. You can also use the Find My app to locate your misplaced AirPods.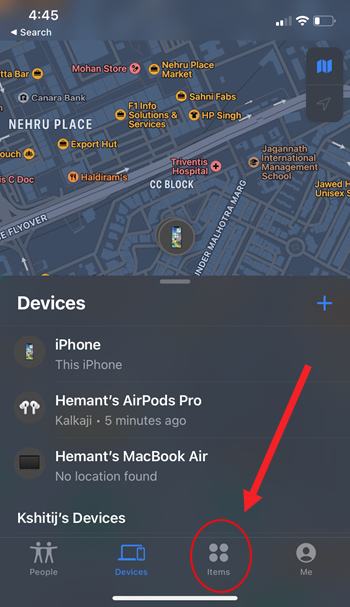 Tap your Airtag name and pull up the screen to display more options. Select the Rename Item option.
When directed to a new screen, scroll down to locate the Custom Name option. Tap to select it.
Pick an emoji that matches the item you want to track. For example, you can pick a red bag emoji to track your bag that is red in color.
If the item to track belongs to you or some family member, enter the name of the person and hit the Done button to confirm the changes.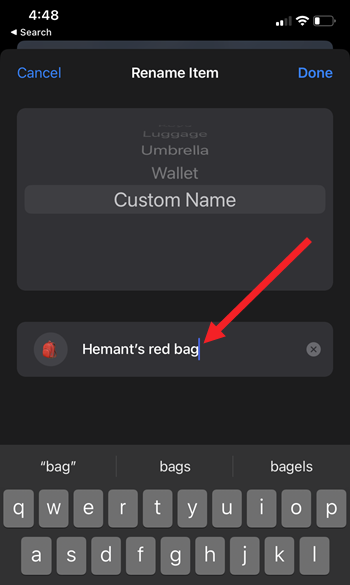 Hereafter, it will be easier to track the item/s using Precision Finding around the home (only if you are using iPhone 11 or later)or locating it on a map. So, if the use case of your AirTag varies with time or preference, you can use this trick to change the Airtag name.
Does Precision finding work on all iPhones?
No. Only the iPhones that have a built-in U1 Chip that can locate objects using "Ultrawide Band" (UWB) radio waves support AirTag Precision finding. These include:
iPhone 11, iPhone 11 Pro, iPhone 11 Pro Max, iPhone 12, iPhone 12 mini, iPhone 12 Pro, iPhone 12 Pro Max, iPhone 13, iPhone 13 mini, iPhone 13 Pro, iPhone 13 Pro Max, iPhone 14, iPhone 14 Plus, iPhone 14 Pro, and iPhone 14 Pro Max.
Share on Facebook