How to play Edge Surf Game in Microsoft Edge browser
Unlike, the T-Rex dinosaur game that is accessible in Chrome only in the offline mode or when you are disconnected from the Internet, Edge Surf Game is available at both times, offline as well as online. So, if you would like to experience some realism in the Edge browser, play the full version of the game and explore new game modes, discover hidden Easter Eggs, and much more!
Play Edge Surf Game to discover hidden Easter Eggs & much more
Although Surfing as a sport is quite popular in the real world, it lacks the same appeal in the video game market. As such, there hasn't been a fantastic surfing game online till now. Still, some decent efforts made over the months have enabled Microsoft to come up with its latest offering – Edge Surf Game.
Edge surfing game online can be started by opening a new tab in the Edge browser. To do so, open a new tab and type – edge://surf inside the address bar. Then, hit Enter. If you're running the most recent version of Edge i.e., Edge browser Version 83.0.478.37, the game will load immediately.
You'll see a screen listing different characters. Use the side-arrow keys (left and right arrow keys) to select the desired character.
Once done, hit the space bar to start playing. You can use the arrow keys to navigate and control your character. For example, the left key turns you to left and the right key helps you move to the right. Similarly, the up key stops the surfer while the down key resumes surfing.
The F key when pressed, will speed boost power-up (visible as green lightning bolts). The goal is to score as much as you can by traveling a maximum distance without crashing. The game measures how far you've traveled in your current run and displays figures related to the same at the top of the window. You start your race with three hearts. With every crash, you lose a heart. After you lose all your hearts, the game ends.
In addition, if you would like to seek some help in playing the game, simply click the Settings menu (visible as the cog-wheel icon in the upper-right corner) and click the How to play link.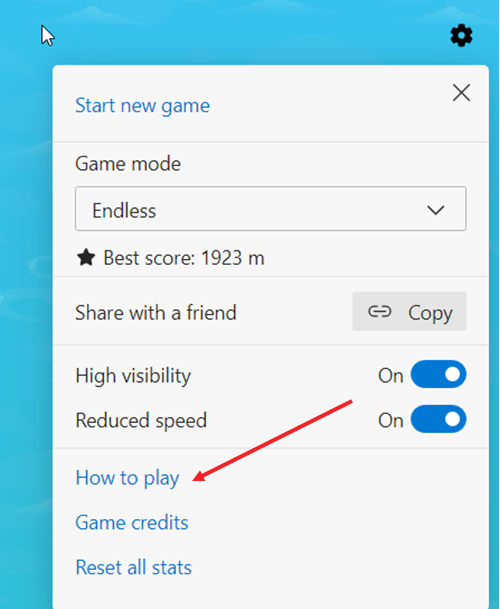 How do you get the Ninja Cat on Edge surf?
After you choose a character and want to switch to the ninja cat character, use this hack.
First press the up arrow key on the keyboard 2 times.
Hit the down arrow key 2 times.
Press the left arrow key once, followed by the right arrow key once.
Hit the left arrow key and then the right arrow key.
Press the letter B on your keyboard and then press the A key on your keyboard.
All these keys must be pressed in quick succession to get the desired result.
Hope it makes sense!
Share on Facebook