How to switch to a dark theme for Snapchat in iOS
Having knowledge about how to switch between different themes is crucial for modifying the appearance of an app. Maybe you like the dark theme for Snapchat but the app uses the light mode by default and keeps it that way even if your overall iOS setting is configured to use the dark mode. Whatever the case is, we'll show you how to change the appearance of the app to the desired mode. You can also hide your location on Snap Map and share tweets as stickers in your Snapchat Stories.
How to enable the dark theme for Snapchat in iOS
The dark theme for Snapchat alters the app's color scheme to a darker landscape. This not only helps in saving the battery life of your device but also puts less strain on your eyes when using the app at night. However, the option to enable the dark mode hides deep inside the App Appearance setting, and finding it can be tricky. Nevertheless, this guide will show you how to enable Snapchat dark mode and stick to it permanently.
Launch the Snapchat app on your iPhone and tap on your Bitmoji (visible in the top left corner of the app's main screen).
When the Snapchat account screen appears, hit the Settings button (the cogwheel icon at the top right corner).
Inside Settings, locate the App appearance option and tap to open it. It can be seen under the My Account section.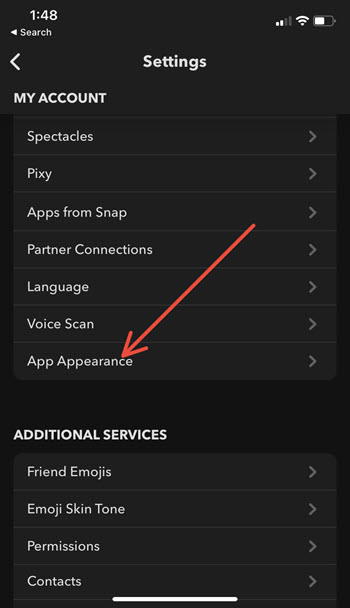 When the App Appearance screen expands, you should see 3 options namely, Match System, Always Light, and Always Dark. By default, the Always Light option is selected. To make it dark, check the Always Dark option.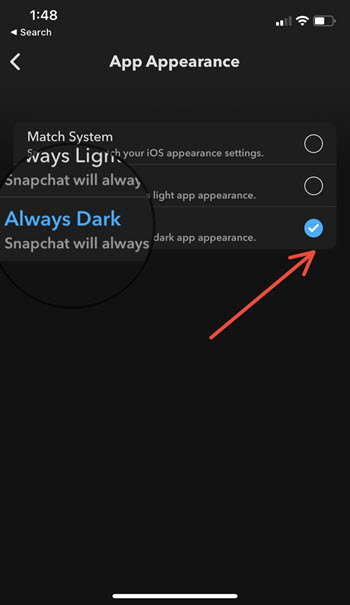 This will quickly change the app's background to dark mode and allow you to use your mobile phone comfortably in low-light conditions as well. It is important to note here that Dark Mode is not available on Android at this time. It is currently only available for Snap chatters on iOS.
Ready for another tip? See, how to hide your Snapchat score points from others.
Share on Facebook