Set up your Snapchat Astrological Profile in just a few minutes with this trick
I am sure that the Snapchat Astrology profile feature has been floating around for a few years now, but piqued my interest only recently. It gives a quick overview of your astrological characteristics when you enter some details and highlights each sign's characteristics, all bundled up alongside your Bitmoji. Here's a brief tutorial on how to use it.
How to create your Snapchat Astrology Profile
Daily horoscopes make predictions about new opportunities coming your way, your chances on a love affair, or offer some advice that may help you sail through the murkiest moments. The Snapchat Astrology Profile offers all these features through an app and also adds a social element to it. Here's how to use it! You can also use its app to get mental health tips for free.
First, open your Snapchat account and tap the profile icon at the top. Choose the Snapchat Astrology icon (purple colored), present below your Snapchat profile name.
When directed to a new screen, scroll down to the bottom and hit the Continue button.
When directed to a new screen, add a name your friends know you by and tap the Save button. To access your detailed astrological profile, enter your birth date, time of birth, place of birth, and other details.
The app will show you a summary of your Snapchat profile. You can edit it or use it to check compatibility with your friends.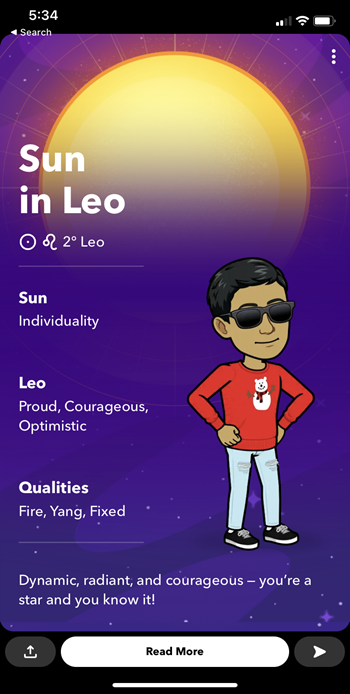 How to edit my Snapchat Astrological Profile?
Click the Menu (visible as 3 vertical dots in the upper right corner) and from the list of options, select Edit. Here, you can add text in the desired text font, doodle your astrological profile with brushstrokes, add stickers, create a custom sticker, or choose a layout of the desired size.
How to check Snapchat Astrological compatibility
To access the Snapchat astrological compatibility chart, go to your friends' Friendship Profile by swiping right from the camera screen and tapping on their Bitmoji.
Next, tap the Snapchat Zodiac sign, next to their username.
Check their personal astrological profile. This will generate a Snapchat astrological compatibility chart showing 10 Snaps with six unique characteristics.
Attraction
Intensity
Growth
Similarity
Support
Harmony
If you don't see your compatibility or your friend's personal astrology chart, chances are they haven't enrolled for the astrology features yet.
Is Snapchat Astrology not working?
If the Astrology icon is grayed out for you, check the language set for the app use. For the Astrology feature to work on your device, it is essential the language is set to English.
So, go to language and select English as the default language. Once done, the app will reset itself automatically and you should see the icon!
That's all there is to it!
Share on Facebook