How to use Snapchat to get mental health tips for free
For people grappling with problems like anxiety, depression, suicidal thoughts, and bullying, Snapchat has come up with a unique solution. Titled as Here for you, the service intends to raise mental health awareness among people and prioritize the health and safety of its community members. Here's a tutorial guiding you on How to use Snapchat to get mental health tips from experts for free.
Use Snapchat to get mental health tips for free
Findings by many research organizations reveal, that there has been an unsettling increase in problems related to mental health worldwide over the past three decades. It's a disturbing trend but seeking help from experts can be a costly affair. To address this issue Snapchat has come up with the 'Here for you' service, a self-help information platform designed to educate as well as empower people to combat mental health issues, collectively. To use Snapchat to get mental health tips, do the following.
Launch the Snapchat app. Make sure you have the latest version installed. In the search bar, visible on the top, type a keyword like anxiety or depression.
Here For You entry should pop up. If not, tap the View More button to further drill down the app. Go to the Shows section and select Here For You entry.
Under the Stories section, you'll find different topics related to mental health. Select any 1 to go through its content.
The story you select contains resources from expert localized partners that can help you spot signs of mental illness in your loved ones and find methods to cope with them.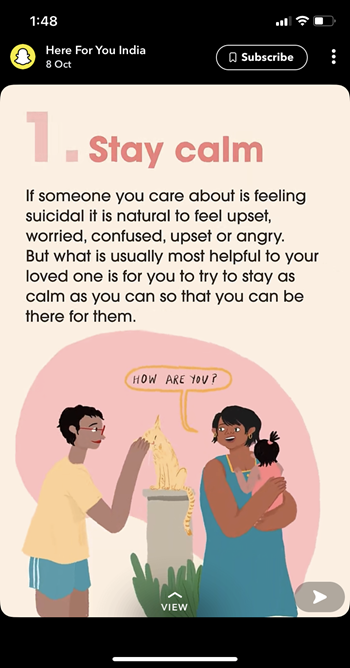 If you've liked what you have read, you can help it reach more people by sharing the same. Simply tap the side-arrow button and select a person from your friend list.
Does Snapchat Here for you really helps?
Some Here For You Stories in Snapchat include questions from the community which has been answered by mental health professionals and clinical psychologists. So yes, it does help!
In all, If you or someone you know is battling with mental health problems or perhaps even struggling with self-harm, Snapchat's 'Here For You' feature can come to their rescue.
Hope it helps!
Share on Facebook