A simple trick to turn a Live Photo into video and make it more shareable
Ever since its inception, Live Photos have given iPhone users a unique way way to capture moments in a photo without having to record a video. That sounds good but what do you do if you want to create a mini-movie with them? Well, there's an option built-in for that specific purpose too. Earlier, it was not simple as you had to rely on some sort of app like iMovie to import images and then, turn them into a video. Now, it's a tad lot easier to turn a Live Photo into video. The superpowers of the iPhone camera and all its amazing image processing capabilities make it possible. No magic work is required!
How to turn a Live Photo into video on your iPhone?
When you turn a Live Photo into video on your iPhone, consecutive Live photos are played in succession as a short video. This makes it a fantastic way for transforming the look of your photos and injecting life into your shots. Moreover, unlike Live Photos, you can share the video much more easily because Live Photos posted to the web are just shown as static images and never change since Live Photos happens to be a proprietary Apple technology. For more fun, you can even add them to your Google Photos app as it supports Live Photos, and can enhance them furthermore for via the Cinematic photo mode of the app.
To transform the desired pictures in your camera roll into video files, open the Photos app on your iPhone. Tap the Albums icon located at the bottom of the app screen.
Under the Media Types heading, scroll down to the Live Photos entry and tap to select it. Disappointingly, there's no quick way to see which photos are actually Live Photos in a single glance. However, all Live Photos are put together in its own album.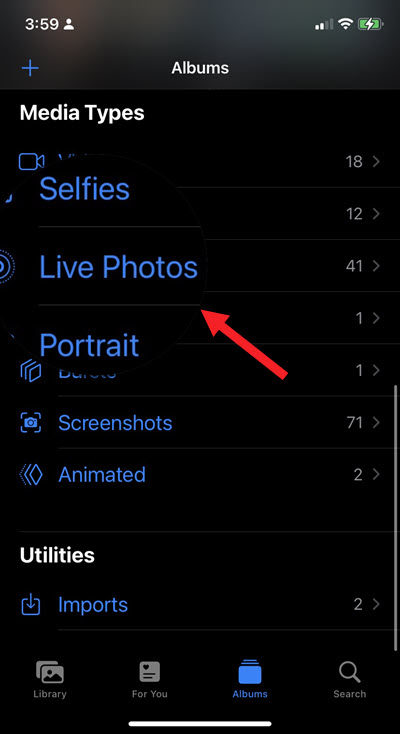 Select the Live photos you want to convert into a video. When done, hit the More button at the bottom of the screen.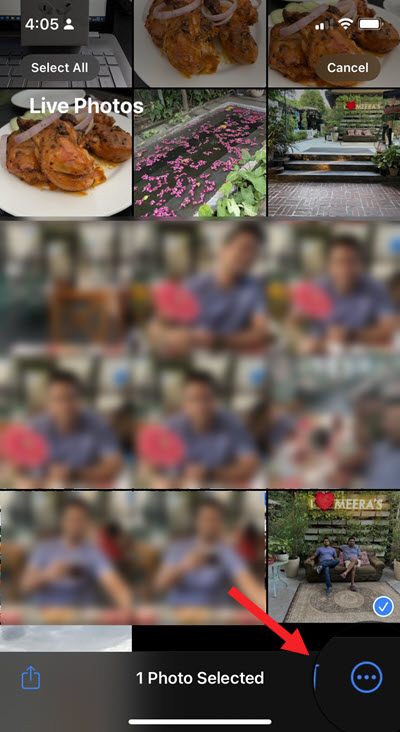 In the new screen that appears, locate the Save as video option to select it.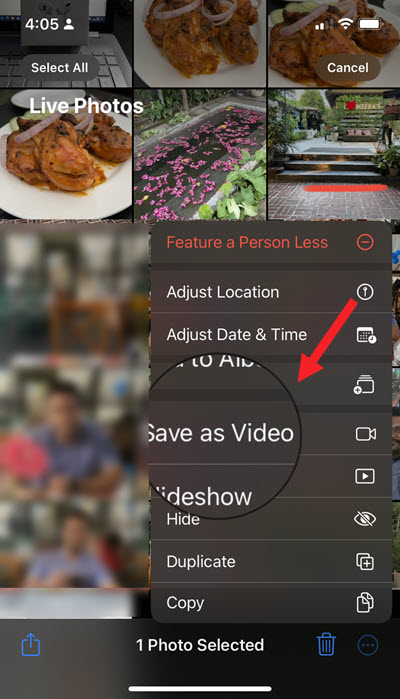 Wait for a few seconds to allow the changes to take effect.
Live Photos video
When done, all the chosen photos will appear as a short video clip. The length of the clip may vary depending on the number of photos selected. Hit the Play button to start playing the video. If you do not like the noise in the background, remove unwanted audio from the Photos on iPhone.
Live Photos don't take up as much space as videos, but aren't as useful as GIFs until you convert them into the .gif format using the Shortcuts app on your iPhone or post them on Twitter via this workaround.
What are Live Photos on iPhone?
Live Photos on iPhone is a feature that combines several still images to create three seconds of motion. The result you get is not only your picture but also the scene enhanced by movement and sound as you tap and hold the image on your device.
Live Photos are often mistaken for a video, but in reality, it's a High-Efficiency Image File (HEIF) format. Apple's chosen file name extension for this format is HEIC which stands for High-Efficiency Image Container.
The format is an updated variant of the High-Efficiency Image Format (HEIF), traditionally used by Apple across its mobile devices.
Hope that makes sense!
Share on Facebook