Questions sticker in Instagram Stories is a fun new way to start conversations
An important part of building your reputation and growing the number of followers involves triggering meaningful conversations with your audience. Questions sticker in Instagram Stories claims to offer this goodness. Using it, you can trigger conversations and boost audience engagement. Let's find out how to use it.
How to use Questions sticker in Instagram Stories
In addition to polling stickers and emoji sliders, the Questions sticker in Instagram Stories offers a fun way to trigger conversations with your friends and followers and get a hands-on experience to know them better. It works in a very simple manner. You post a Questions sticker to your Story on Instagram and it can be answered publicly. That way, you can receive feedback or recommendations from your followers or find out what people think about something.
Audiences love Instagram partly because it's a lovely conversational platform. The questions feature to make it more worthwhile. Read the text below for an easy-to-follow walkthrough.
Open your Instagram app and tap your profile picture in the Stories tab.
Take a photo or select an image from your Camera roll. Tap the Stickers icon (visible at the top).
Choose the Questions label from the list displayed.
Type a question for your Instagram followers or friends and then tap Your Story button at the bottom of the screen. You can also choose to share it automatically on Facebook. Just follow the on-screen prompts.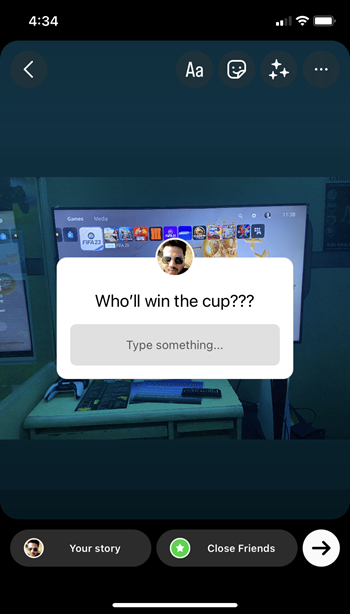 Check your story. It should show the Question sticker. To view the responses to your question, you can go to your Instagram story and swipe up to see who answered it. Alternatively, you can find responses added under the notification list. You can access them by simply tapping the heart icon under the menu at the bottom.
So, for those times when you feel you should talk to someone, but don't know how to start it, give the Questions sticker in Instagram a shot!
Share on Facebook