Should you upgrade to the LinkedIn Premium plan? Find out if it's worth investing in
Anyone who's on LinkedIn knows the service offers a free basic account for everyone but even in its basic form, the service remains a healthy choice for recruiters. I was reading Jobvite's Recruiter Nation report which reveals 72% of talent acquisition professionals prefer or plan to use LinkedIn for recruitment as it sources the highest quality candidates for them (67%). Besides that, I find the business and employment-focused social media platform supports an array of tools – for a price. This begs one question – should the LinkedIn Premium plan be an option worth considering for those on a budget? Read along as we attempt to answer the question in the rest of this post.
Different types of LinkedIn Premium plans and their cost
Unlike any other social media platforms such as Elon Musk's X or Zuckerberg's Facebook and Instagram, LinkedIn is quite purpose-driven. It's centred more on career and business development activities and its paid model – LinkedIn Premium grants access to some additional features. I leverage these benefits to accomplish some of my on-platform goals and depending on your profile, you too can pick any one of the LinkedIn Premium models that suits your needs. Given below is the breakup of premium plans for LinkedIn.
LinkedIn Premium (Career) – Priced around $40 a month. It's more suitable for individual active jobseekers.
LinkedIn Premium (Business) – This plan costs $ 59.99/month and finds utility in growing and nurturing your networks if you are a small business owner.
LinkedIn Premium (Sales Navigator Core) – It provides all LinkedIn Premium Business features. Plus, it helps Business owners build their client base by generating leads and unlocking new sales opportunities. The monthly plan costs $99.99.
LinkedIn Premium (Recruiter Lite) – Moving further tier up, the Recruiter Lite plan is best suited for individuals at small-to-medium businesses with low-volume hiring needs. It can be purchased online for a monthly subscription of $180/month.
Each of these plans is tailored to the needs of different user subsets. They also offer a yearly subscription at a discounted price.
Difference between LinkedIn Basic and Premium plan
Though LinkedIn Basic and Premium plans are of immense value when it comes to making personal connections with others, I think the latter improves the likelihood of you having your application reviewed, securing an interview, and landing a job or meeting your marketing objectives in an incredibly competitive landscape. Here's how they differ from each other.
1] Profile Premium badge
Unlike a basic plan, the LinkedIn Premium plan adds a Profile Premium badge to your profile picture and search results. I found though it does not add any value to your account, I can use it to flaunt my premium membership to others.
Just go to your profile page and select the Edit option (visible as a pencil icon).
Then, simply hit the drop-down menu next to the Profile Premium Badge heading and toggle on the switch to display the gold LinkedIn Premium profile badge next to your profile.
2] Complete list of Profile Views
By enrolling for a premium subscription, I can see all the people who have viewed my profile over the last 90 days. In comparison to this, members with the basic plan can only see the last five views of their profile. Also, the premium service users receive information about how those people landed on your profile page.
3] Number of searches allowed (Free)
Free LinkedIn accounts can do 300 searches each month while there is no such limit imposed for my premium subscription. Individual job seekers who don't do a lot of searches for work on LinkedIn will find 300 searches count more than sufficient and most of them will not even be able to cross this limit in a month. Some Premium members tell me that the searches in the premium version end up showing up more relevant results however, I could not find a method to verify their claims.
4] LinkedIn InMail Messages
LinkedIn InMail Messages is a paid feature that lets me directly message another member even if they're not connected to me on the network. It's advantageous as I can skip the connection request step and land directly in my prospect's inbox. Not to mention, but I believe this is more effective than cold email as these messages come directly through LinkedIn, signaling to the recipient it's a real person trying to communicate with them and not a bot.
Secondly, I see it as a fitting response to abuse of the platform by influencers and marketers who are not relevant to my interests but keep bothering me to connect only to increase their follower count or force their content through my feed. So, if someone is adding clutter to my network unnecessarily, InMail Messages can help cut that crap. Here's how to use LinkedIn InMail Messages feature.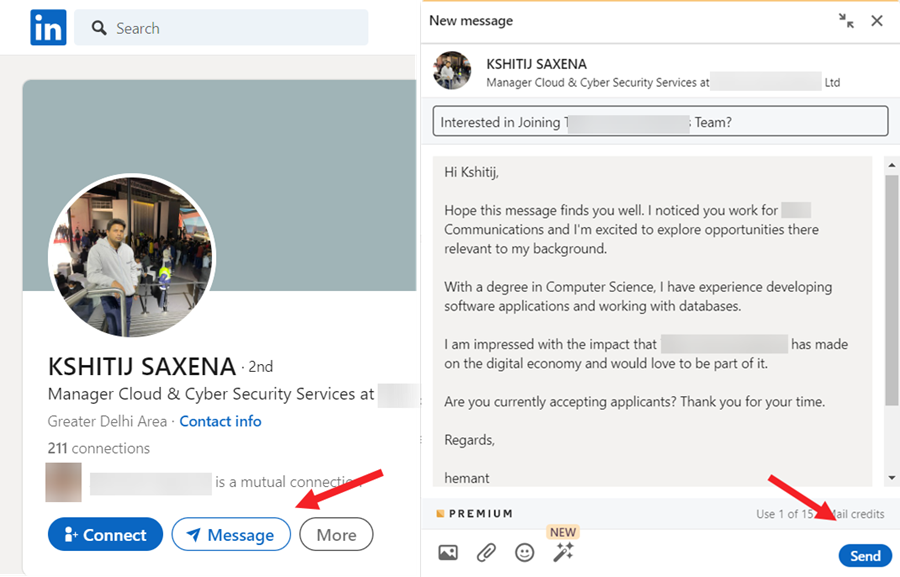 Every Premium subscription comes with a monthly InMail Message allotment. Here's its breakdown.
Career plan subscribers – 3
Premium Business users – 15
Sales Navigator Pro – 20
Recruiter Lite – 30
You can purchase additional credits if required. InMails will also accumulate from month to month for 90 days. The only thing that I find missing in this magic bullet is it lacks the option to send follow-ups with InMails.
5] LinkedIn Learning
Growing professionally is important to one's career which is the direct result of efforts made to improve one's skills and knowledge. Through LinkedIn Learning, offering me more than 15,000 expert-led courses I can learn not only something new but also hone my skills, regardless of your job function. This makes it an affordable solution for professional learning. I can find training courses on a range of subjects but to be fair, the most recent one I went through was on the PowerPoint Quick Tips and it was quite basic and boring.
6] Premium Insights
A brand-new feature that does all the heavy lifting of showing timely data about the companies that interest me with details about their growth as well as hiring trends by function. Insights are particularly provided for functions like,
Total job openings (company's job postings available on LinkedIn).
Total employee count (number of people working in the organization)
Employee distribution by function (provides a snapshot of how a company is structured based on department)
New hires intel (offers perspective on how a company is growing and whether there are new business areas that the company is investing in).
7] Featured Applicant
Subscribing to a Premium LinkedIn account automatically gives me the status of Featured Applicant. This effectively means I am put higher on the applicant list. But does it increase the chances of your application being viewed? Again there was no way I could verify it.
Still, if you want to give it a try, make sure to check the Featured Applicant box at the bottom of the job application page on LinkedIn. Note: The option only appears if you're in the top 50% of applicants for at least one role and there are at least 10 applicants who've applied for the post.
My honest advice to whosoever is planning to upgrade their subscription is to try the month-long free trial. This will give you a clear picture of whether LinkedIn's premium features are worth it or whether the extra price you are paying for the service is something you will regret later. Fortunately, a one-month free trial is easy to set up.
How to Sign Up for LinkedIn Premium trial?
When you sign up for the trial period, you'll have to input a credit card number. After your trial period expires, it'll convert to a paid subscription automatically. So, don't forget to set yourself a reminder to cancel the subscription as LinkedIn will take payment once the month has passed.
Log into your LinkedIn account and click the Me icon at the top of your LinkedIn homepage.
Next, choose Settings & Privacy from the dropdown menu.
Select Account preferences entry from the left pane.
Then, under Subscriptions & payments, hit the Change button next to Premium Subscription.
Explore and select the plan that best meets your needs. Follow the prompts on the page to complete your upgrade.
How to cancel LinkedIn Premium free trial plan?
The LinkedIn Premium Free trial plan expires exactly one month after it's redeemed but if you don't convert it into to a paid subscription and incur any charges on your card, cancel the trial before it expires.
Click the Me icon at the top of your LinkedIn homepage.
Select the Premium features option under the Account heading.
When directed to a new page, click the Manage Subscription link.
Under the Manage Premium account section, hit the Cancel subscription link.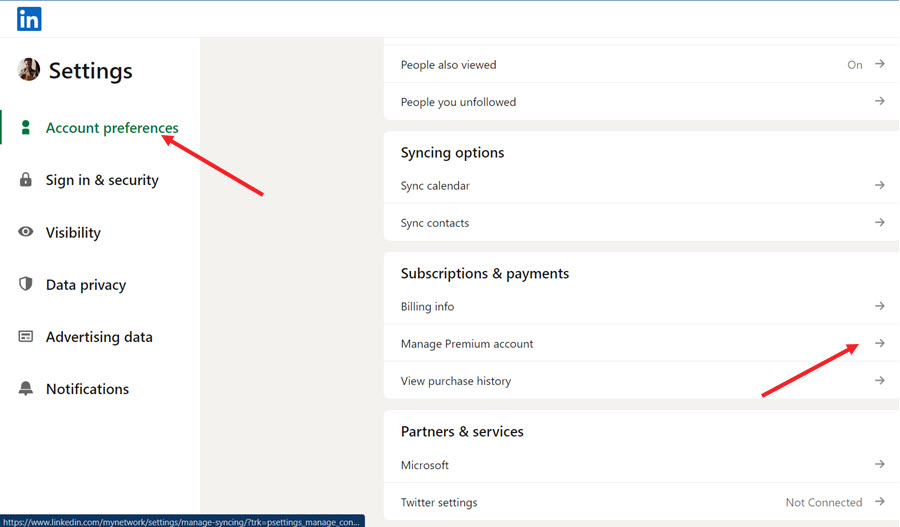 Final words: If you're someone who reach out to people, say a recruiter and don't mind doing outbound marketing, then you'll appreciate the premium version of LinkedIn. Else, you can save your hard-earned money by sticking to the free account as I did after completing my trial period.
Share on Facebook