What is an InMail in LinkedIn and how do you use it?
Top-tier talents are always in high demand but if you are cold in your outreach or fail to make a compelling first impression, your email probably won't even be read, let alone answered. Enter LinkedIn InMail, the professional networking site's trailblazing solution to help you get the best results, so long as you use it right. We'll explain to you What is an InMail in LinkedIn and how you could use it to maximize your potential in a tight labor market. Just read along to find out!
What is an InMail in LinkedIn?
Inmail in LinkedIn is a paid feature that lets you send a message to anyone on LinkedIn. This is different from the Free basic plan where you can't send someone a message on LinkedIn without being connected to them or in the same LinkedIn Group.
The number of InMails that get allotted to you in a month is dependent on the paid plan you've subscribed to. Below is the breakup of every plan –
LinkedIn Premium Career: 5
LinkedIn Premium Business: 15
LinkedIn Premium Sales Navigator Core: 50
LinkedIn Premium Recruiter Lite: 30
The limited availability of inMail credit LinkedIn means you should use the feature effectively or you might end up not having any allowance left when it matters most. Another thing that bears noting here is it's not possible to purchase additional InMail message credits outside of the monthly allotment and none of your Premium InMail message credits can be used to send InMail messages on Sales Navigator or LinkedIn Recruiter.
That said, LinkedIn will be generous to offer you an InMail credit if the recipient of your InMail message (be it a job seeker or a recruiter) responds to your LinkedIn InMail message within 90 days.
Also, the compose window of InMail messages keeps tabs on the number of InMail message credits left on your account, so you can easily view your current allotment.
How to send a LinkedIn InMail message?
Should you decide to send someone an InMail message on LinkedIn, its recipient would know immediately as it will be clearly labeled as InMail and they'll likely open the message to read it as they'll know it isn't spam.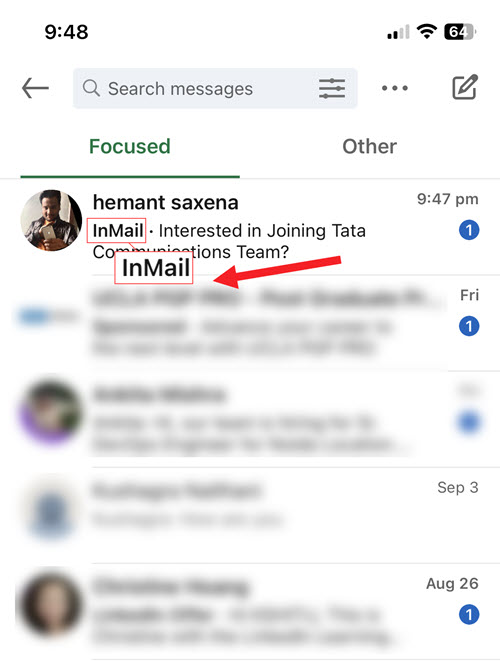 Go to the profile of the member you'd like to send an InMail message to. It's not necessary to have a 'Connection' with the person.
Alternatively, you can also look for a member through the Search option and send a new InMail message from the messaging page or conversation windows.
Select the Message option visible in the introduction section.
Type the Subject field in the New message pop-up window. This step is however optional.
Enter the message in the text box.
Hit the Send button.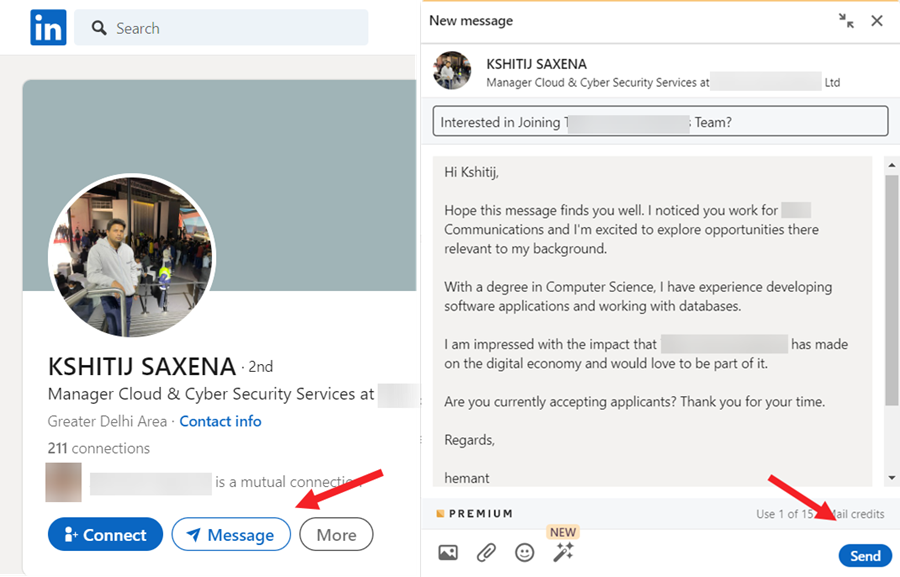 You can follow the same steps on your iPhone as the process remains more or less the same.
How to opt out of LinkedIn InMail?
Even if you have a basic account, it's pretty easy to control who can message you on LinkedIn and how. So, if you'd rather not receive any InMail messages on LinkedIn at all, you can opt out of it. Here's how!
Hit the drop-down button next to the Me menu visible under your profile picture/icon.
In the Settings panel on the left, scroll down to the Data Privacy section.
Under the Who can reach you section on the right, expand the Messages entry.
Locate and toggle off the switch next to the InMail messages option.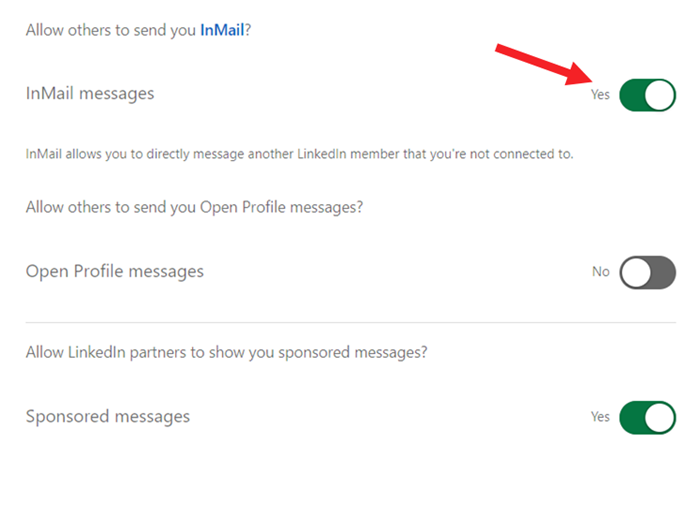 That's how you can use LinkedIn InMail to reach out to potential leads without sending them connection requests. However, the message crafted to be sent through an InMail message must suit the interest of the recipient. You can stand out and increase your response rate by following these tips.
Add a relevant subject line. Every InMail message can include up to 200 characters in the subject line. Also, if possible, share any mutual experiences, interests, or connections.
Keep the message short with a brief description and personalize the greeting. The message can accommodate up to 1,900 characters in the body text, including your signature.
Every outbound message you send should have a mention of the value proposition and show a clear intent.
You can also find some of the best practices for writing InMail Messages here. If your description resonates with their interest and gives them a reason to reply, schedule a quick strategic call to engage actively. Most importantly, don't forget to thank them for their time.
Share on Facebook