Silence unknown callers in WhatsApp screens out spam and scam calls
WhatsApp will ring and bother you no matter who is calling. But seeing an 'Unknown Caller' ID appearing on your phone is no fun. Scammers typically use this disguise when ringing their victims. For this reason, Meta has introduced the 'Silence unknown callers' in WhatsApp to screen out spam, scams, and calls from unknown people. It will also help prevent getting scammed.
How to turn On the Silence unknown callers in WhatsApp on iPhone?
Privacy has always been a contentious issue for messaging platforms like WhatsApp. No matter how hard Meta has tried to wipe out bad actors from its platform, they've always come up with different ways to scam users. So, in its recent attempt to let users strengthen their privacy controls furthermore, Meta has rolled out a new option called Silence unknown callers in WhatsApp. Previously, we had seen the ability to lock chats in a protected folder on WhatsApp. Now, the new option will mute calls originating from unknown numbers, automatically.
Launch the WhatsApp on your iPhone. If you haven't installed the latest update for WhatsApp yet, make sure you sit down and get your iPhone ready for it before you proceed further.
Tap the Settings icon at the bottom of the app screen. Scroll down to the Privacy heading and tap to expand it.
There, you should see the Privacy Checkup section at the top. It is designed to inform users about the privacy and security options WhatsApp offers, step-by-step.
To choose the right settings for you i.e., silence unknown callers, tap the Start checkup option. The checkup lets you configure various settings like who can contact you, and helps you add other security measures to your account such as two-step verification or requiring biometric authentication like FaceID to open the app.
Next, expand the Choose Who Can Contact You tab to go top a new screen.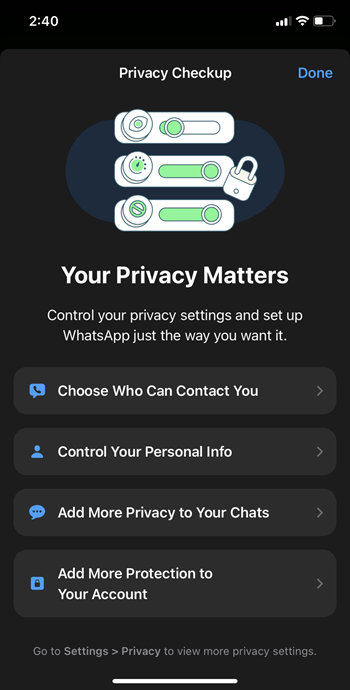 To stop unwanted calls or messages, select the Silence Unknown Callers option. The feature is off by default, and for good reason.
Toggle on the switch to stop calls from unknown contacts. The silenced calls will still show up in notifications and in the app's call list. That's just in case you want to check if the call was from someone you know but don't have their number saved in contacts.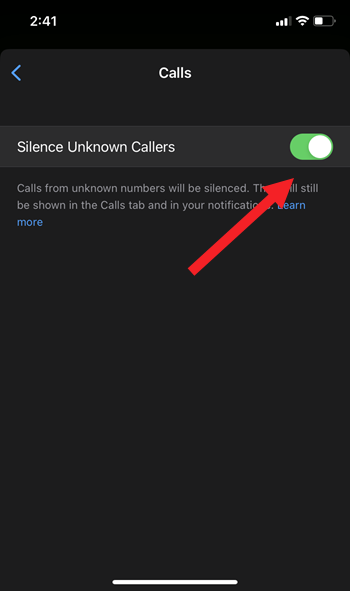 Hereafter, when you receive a call from an unknown number, your phone will simply display its number along with the message "silenced unknown number." That's a good way to prevent the ringer from ringing unless the person calling you is present under your contacts list.
Also, just like WhatsApp calls, you can use iPhone call silencing to put an end to all spam calls and unsolicited texts.
Share on Facebook