Back-tap iPhone to capture screen in in instant
A speedy way of completing most of your frequent tasks through your smartphone is to create a shortcut for them but most of these shortcuts are either tucked inside hard-to-find settings or appear to be not known by most people. Should you decide to interact with your phone using gestures, you can easily configure shortcuts for taking a screenshot, toggling the flashlight, or launching an app directly, without navigating through the maze of settings. Here's a simple tutorial describing how to enable Back-tap iPhone to capture screen.
How to enable Back-tap iPhone feature to capture screen?
I've been fiddling with iPhone gestures for quite some time now, and along the way, stumbled onto some lesser-known trick for tapping into hidden possibilities. Interacting with your phone through gestures just happens to be one of them. It allows you to quickly perform a function with a tap (take a screenshot, toggle a flashlight, open an app, etc).
It turns the Apple logo on the rear side of your iPhone into a secret button for taking quick screenshots. The feature, however, is not enabled by default. You'll need to drill down into the settings apps to enable it. See how it's done!
On your iPhone Home Screen, tap the Settings icon and scroll down to the Accessibility option.
Under the Accessibility settings screen, go to the Physical and Motor section and tap the Touch option to expand it.
When directed to a new screen, locate the Back Tap option towards the bottom of the screen. It lets you configure different options to perform actions quickly. Tap to expand it.
Tap the Double Tap tab once. By default, it's not On.
Under the System section of the Double Tap screen, select the Screenshot entry by tapping it.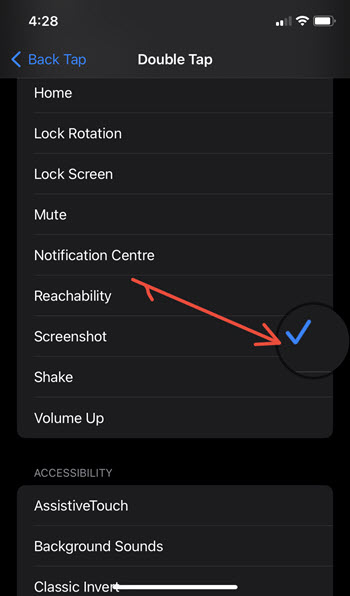 Now, just double tap the Apple logo on the back side of your iPhone with your finger and let it perform the action of capturing the screen, straight away.
So, apart from pinching the volume rocker and jabbing the power button together, you can Back-tap iPhone to capture screen. All you must do is enable this shortcut via Accessibility settings. The trick can be a boon, especially for people having mobility issues or if pressing multiple buttons at once is physically difficult for some. S
Does the apple on the back of the iPhone do anything?
Yes! It can capture your screen. You simply need to enable its shortcut as described above. This will completely eliminate the need to press the Volume Up button and the power button together to take your best shot!
The feature should work as intended when you tap anywhere on the back of your iPhone but if you have a case covering it, you might experience some difficulty.
Share on Facebook