Switch to Apple TV Color Balance setting for a customized viewing experience
Someone who does not mind deep diving into Apple TV's picture settings and doing an honest assessment without using an expensive pro-grade color meter should try the new Color Balance feature. The setting offers an easy and fun user experience and although does not do anything terrific, it gives a built-in option to adjust default picture settings. Here's how to switch to Apple TV Color Balance setting customized viewing experience.
How to use Apple TV Color Balance setting for a customized viewing experience?
The Apple TV color balance setting works well for less accurate TV presets and if you have an Apple TV 4K and an iPhone with Face ID enabled, you can readily optimize the output of Apple's streaming box. The option intends to compensate for the poor native color calibration of some TVs, whose picture settings may not be very accurate.
Hit the Settings icon on your Apple TV Home Screen. Go to the Video and Audio tab.
Expand the Format tab and select a format other than Dolby Vision. For example, you can pick a 4K HDR format.
Scroll down to the Calibration section. Choose the Color Balance option.
Bring your iPhone closer to the TV. A message should appear on your phone screen. Tap the Continue button to proceed further. Enter the Authentication code that is displayed on your TV. Turn your iPhone around so it faces the TV screen. Hold it a few inches away from the screen.
Your Apple TV device will send a signal to the TV that is readable by your iPhone. In turn, the phone will relay that information back to the box where all the processing occurs. During this time, the TV screen will cycle through a series of colors. When the process is complete, hit the View Results button.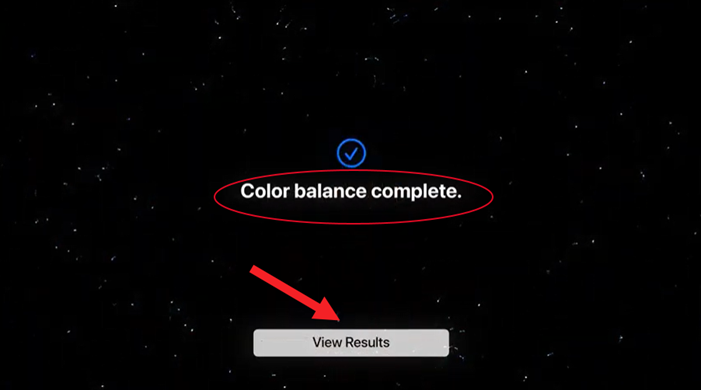 Hit the Use Balanced tab to check if the output is optimized. If you find the calibration does not yield the best results or stops short of producing improved color accuracy, switch to the Use Original View tab.
Is Apple TV Color Balance unable to measure?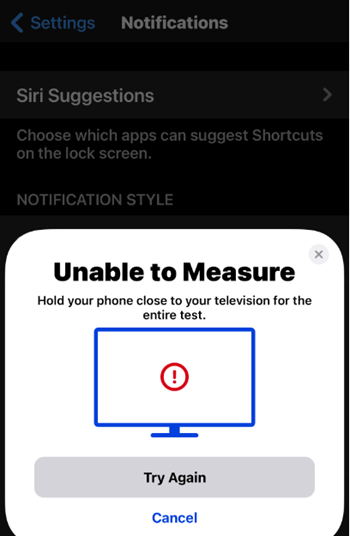 If you find that you cannot access the Color Balance feature under Calibration settings or Color Balance is unable to measure, check the Format under the Video section of Video and Audio settings. If it is set to Dolby Vision, change it to a different format.
This should solve your problem!
Share on Facebook