Markup tool on iPhone lets you create your own digital signature
Apart from using the Markup tool on iPhone as an image-annotation utility, you can use it to add signatures to important PDF files before sending them as attachments via the Mail app. It can be then checked by the concerned authorities for verification and certification.
How to use Markup tool on iPhone to sign a PDF file?
If you are using some third-party apps to edit or sign a document, try switching to the Markup tool on your iPhone. It lets you add a digital copy of your signature with desired levels of opacity and font thicknesses.
Firstly, open the Mail app on your iPhone. Towards the bottom of the Mail window, you can find the Compose button highlighted in blue.
Select the Compose button and tap anywhere inside the mail body to make the > icon visible. It will expand the Format bar. Choose the Page icon to add an attachment or a photo.
Choose the PDF file to which you would like to add your signature.
Once the document is attached, tap the area near the attached file to reveal the markup option.
Hit the plus button to select the add a signature option.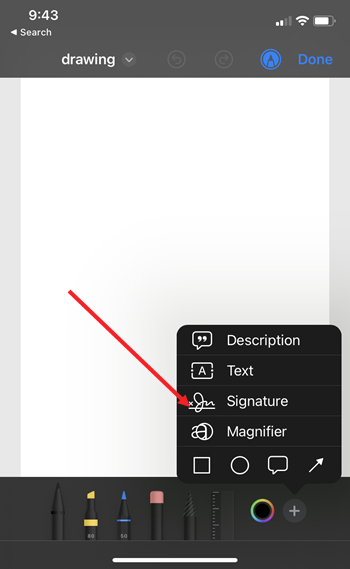 If you are adding your signature for the first time, create it using the tools offered in the Markup tool. Markup offers a wide range of tools including, markers, highlighters, pencils, erasers, and Magic Rope. Tap the Pen tool to select it and create your signature.
When done, select signature to add your signature to the file. Tap Done to send your email.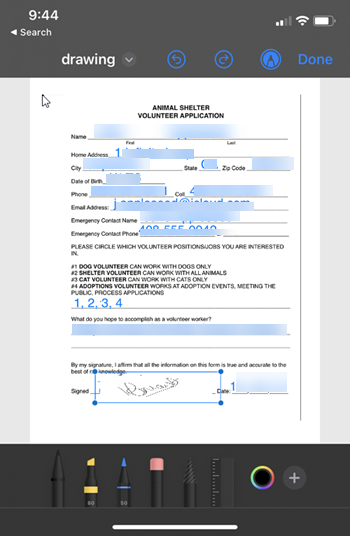 Note: Depending upon the notification rules, you can choose to change the color of the writing tools from white, black, blue, green, yellow, and red. Also, you can expand or shrink the size of your signature by adjusting the handles.
Hope this helps!
Share on Facebook