Schedule Facebook Quiet Mode to limit the app's screen time
Under its settings, the Facebook app hides a special feature that can help you use the app less frequently. Surprisingly, this feature remains relatively unknown to many Facebook users. Let's find out how to schedule Facebook Quiet Mode and although temporarily, experience some well-earned peace.
How to schedule Facebook Quiet mode
Social media addicts wary of the risk of quitting the app, can gift themselves much needed break by choosing to schedule the Facebook Quiet Mode. When enabled It lets a user mute most of the push notifications and manage the time they spend on the app.
To activate the Quiet Mode, launch the Facebook app on your iOS device and go to the Settings & Privacy menu. Hit the drop-down button to show more options and scroll down to the Your time on Facebook tab.
When Your time on facebook screen opens, choose the Manage your time tile residing under its screen and hit the See tools button.
Here, toggle the switch next to the Quiet mode option to enable it right away.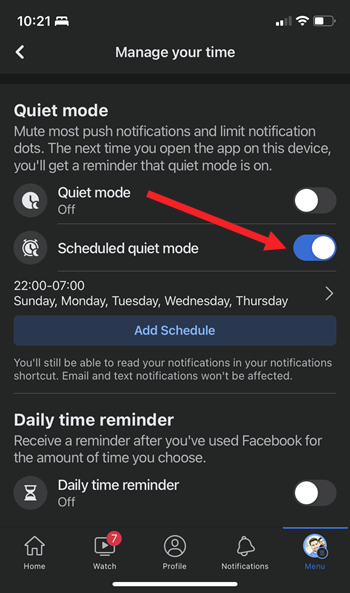 If you would like to add a schedule for limiting your time on the app, hit the Add Schedule button.
Select a start time, end time, or any day or day of the week for quiet mode. The set schedule will continue until you turn it off.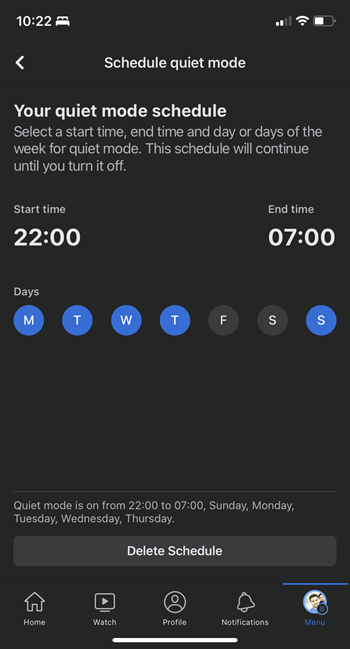 The next time you open the app on your device, you'll get a reminder that quiet mode is on. In short, it's a useful way of reminding people to limit their time on Facebook and focus more on family and friends than distant unknown people.
Note: You'll still be able to read your notifications in your notifications shortcuts. Also Email and text notifications won't be affected by these changes.
Hope you find this information useful!
Share on Facebook