How to unlock your MacBook with Apple Watch to make it more accessible
Having the option to unlock your MacBook with Apple Watch can be useful in shaping a more positive experience with macOS. It can also save you from the tedium of manually entering the password every time you try to log into the machine. So, if your work is predominantly macOS-centric and you would like to make the process of logging into your MacBook a hands-free operation, we'll show you how to do it.
How to unlock your MacBook with Apple Watch
There's a built-in option in macOS that lets you unlock your MacBook with Apple Watch. You just need to make sure that you are using the same Apple ID on both devices, i.e., MacBook and Apple Watch. Thereafter, follow a couple of simple steps as outlined below. When it's done, you'll be ready to use your smartwatch as a digital key and make your MacBook more accessible.
Note: In order to make this feature work, you should have macOS Sierra or later installed on your MacBook and your Apple Watch, running watchOS 3 or later.
To get started, go to the Apple Menu located in the upper-left corner of the desktop screen. If it's not visible simply hover the mouse cursor in the top corner to access it. Click the menu and choose System Settings from the list of options displayed.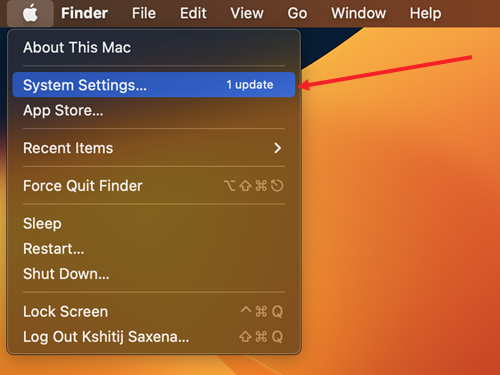 When the System Settings window opens, scroll down to the Touch ID & Password heading.
Click to expand its screen on the right. Now, to enable your Apple Watch to unlock your applications and your Mac, slide the toggle next to your smartwatch's name to the On.
When prompted to finish setting up iCloud, hit the Open Apple Account button to proceed further.
Enter the password to set up iCloud. If you forgot the password, you can reset it in 6 simple ways. After entering the password, Apple will send you an access code for your Apple ID. Enter the code on your MacBook and hit the Ok button.
Wait for some time, a notification should appear on your computer screen. It bears the following message – Unlock Mac with Apple Watch. It means you can use your Apple Watch to unlock your Mac.

Now, if you have the smartwatch tied around your wrist and it is within a few feet or about a meter away from your Mac, it will automatically unlock the Mac rather than waiting for you to type in your password.
For some reason, if you have taken off your Apple Watch, it will not unlock the Mac when you try to wake it up from sleep. Then, you'll need to put the Apple Watch back on your wrist and enter the passcode to wake it.
Unlock your MacBook with Apple Watch is a boon to accessibility
This alternative way to unlock your MacBook is a boon to accessibility. It makes the task of entering passwords, especially long ones as painless as possible for physically or mentally challenged people.
Also read: List of 5 best Apple MacBook compatible wireless mouse
Share on Facebook