No-fail solution for adding AirTag Tracker Detection to your Android smartphone
AirTag, the tracking accessory from Apple is meant to help you find items you've misplaced or lost but instances of it being used to track people's locations have also been reported in abundance. To counter this, Apple has already released antistalking features to help iPhone users discover any rogue AirTags following them around and minimize attempts to abuse this technology. However, all Android users have been left out of this meaningful protection scheme. Not anymore! A new update for Android seeks to help you alleviate all the unwanted tracking-related security concerns by enabling AirTag Tracker Detection on Android smartphones.
How to add AirTag Tracker Detection to your Android smartphone?
Going by the name Unknown tracker alerts, the universal tracker detection and alert system work uniformly across Android OS and helps you discover any unwanted tracking accessory moving around with you. The proactive feature should is visible under the Safety and emergency settings of Android OS. Though its rollout so far has been sporadic, all Android users are likely to get it soon. Agreed, the change comes a tad too late but it's better late than never. Google had earlier reiterated its commitment to protecting users by developing strong safeguards and collaborating with the industry to help combat the misuse of Bluetooth tracking devices. So, this development marks an important change. Because until individual privacy protection is guaranteed, few are likely to adopt these technologies.
To begin, open up the Settings menu and scroll down to locate the Safety and emergency option.
At the bottom of the Safety and emergency screen, the Unknown tracker alerts option should be visible to you. Just tap to expand its menu.
You'll want to check if the Allow alerts toggle is On. By default, it is already 'On' but it's good to verify the same.
Make sure Bluetooth is On to make the feature work. The Unknown tracker alerts menu will prompt you to turn it on if it's not.
Allow the Unknown tracker to pick up the rogue AirTag or perform a manual scan by hitting the Scan Now button.
If the scan upon completion, discovers an AirTag that appears to be following you around, the alert system will let you play sound to track down its precise location.
During testing, my Pixel 7 phone was able to make the AirTag play a sound and so, I was able to locate it in a few minutes which effectively means, you should be able to spot any unknown AirTags hanging around.
Using Tracker Detect app
The free app has the knack of searching for and tracking items that work with Apple's Find My network. Plus, it requires no Apple ID account to work.
Just go to the Play Store and download the Tracker Detect app.
Turn on Bluetooth if it isn't On. This enables it to find any AirTags nearby.
Launch the application, agree to the terms and conditions, and tap the blue Scan button to search for nearby items.
Allow your Android smartphone to scan for up to a minute. If it finds an AirTag near you, it will show up as "Unknown Airtag."
Tapping on info field will give you the option to make the AirTag emit a sound, letting you know exactly where it's hiding.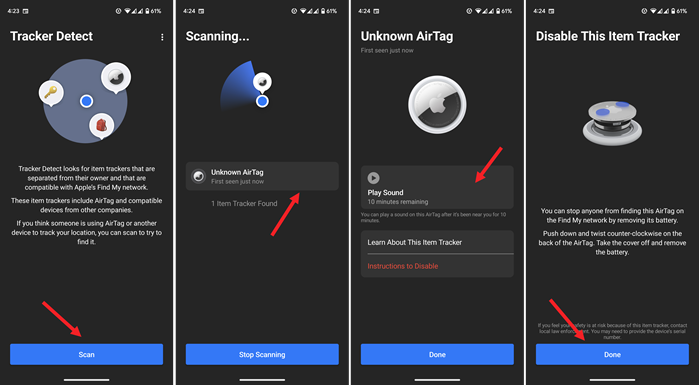 Upon locating the unwanted tracking accessory, simply push-down and twist counter-clockwise on the back of the Airtag. Then, take the cover off and remove the AirTag battery.
This is how you can stop an unknown person from tracking you or a stranger from compromising your safety.
Share on Facebook