Facebook data export tool allows people to transfer their data between online services
By housing your online photos and videos in more than one location you can be sure about not ending up losing your media files if you ever choose to delete your Facebook account or even worse, it's hacked. Luckily, the Facebook data export tool, makes the process quite seamless. Let's find out how to use it to copy your photos, videos, posts or other information to another service.
How to use Facebook data export tool to transfer data between online services
Facebook data export tool is a part of the company's Data Transfer Project that aims at building a common way for people to transfer their data between online services. Using it, you can transfer photos and videos directly from Facebook to Google Photos or other services like Dropbox and Koofr.
On your computer log into your Facebook account. Then, hit the drop-down button next to the Account heading and go to Settings and privacy > Settings option.
When directed to a new page, switch to the Privacy tab and scroll down to the Your Facebook information section. This section allows you to view or download your profile information and manage your profile activity.
Under the Your Facebook Information section, hit the View link next to the Transfer a copy of your information entry.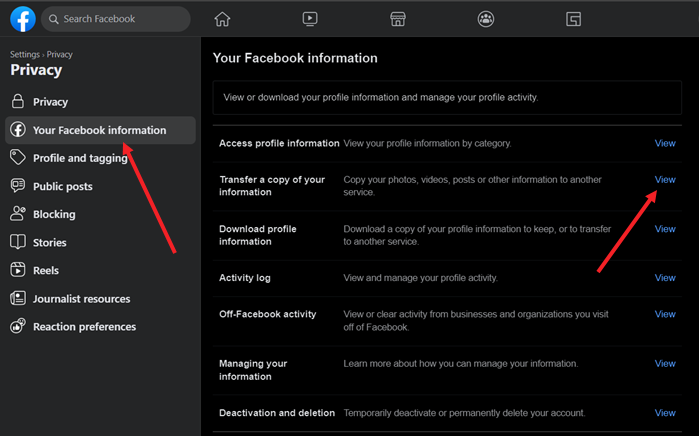 To transfer a copy of the information you've created and shared on Facebook to another service, select a destination from the list provided. Here, I've chosen Google Photos.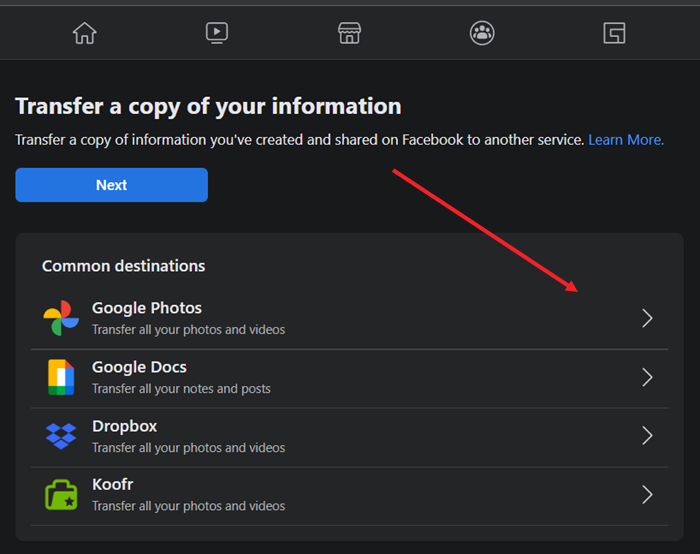 To transfer or export a copy of your photos and videos to Google Photos, check the Photos and Videos option and hit the Next button at the bottom of the screen.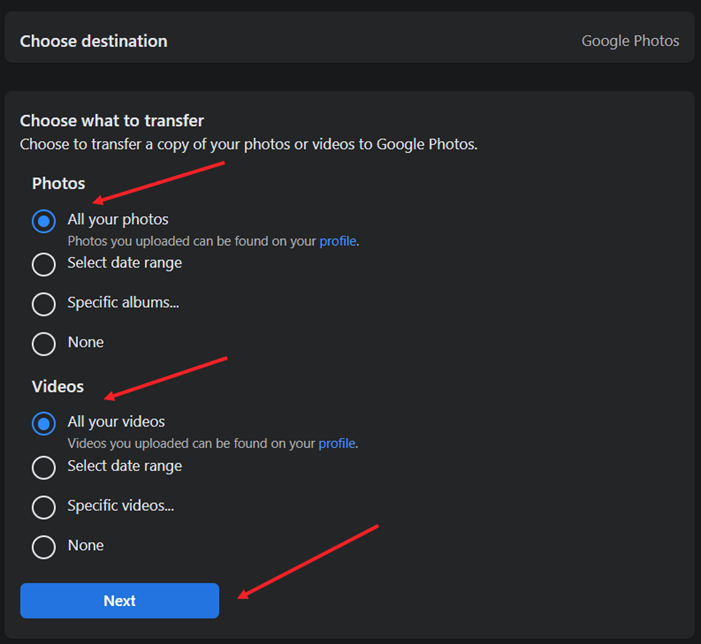 Hit the Connect button to log into your Google Photos account and confirm the Facebook data export or transfer.

Follow the on-screen prompts after entering your Google Photos account details and hit the Start Transfer button to start the transfer process.
How long does a Facebook photo transfer take?
It depends on the amount of data. Once started, you can leave the page. Once the transfer is complete Facebook will send you a notification.
Interoperability between apps is essential for easy access and exchange of data, regardless of its origin. It is for this reason companies like Facebook allow you to transfer your photos and videos you've posted on it to Google Photos, Dropbox, and other services.
Share on Facebook