How to access and enable YouTube Lock Screen setting
A big problem with touchscreen smartphones while running apps like YouTube is any tap on the device's screen, even if unintentional, can push you out of the app and ruin your viewing experience. To fix this, the Google-owned video-sharing platform has come up with a new experimental feature – YouTube Lock Screen that avoids triggering unintentional gestures. We recently spotted it under the 'Your Premium benefits' section of the app which means only premium members have access to the trial but not everyone has it for now.
Accessing and enabling the new YouTube Lock Screen setting
YouTube Lock Screen feature takes cues from Netflix's Lock mode which already allows you to save any unwanted frustration by locking your screen. All you must do is tap on a TV show or movie while it is playing and hit the lock icon that's visible at the bottom of the screen.
Similarly, YouTube's Lock Screen lets you disable touch input while watching a video so that accidental taps do not pause, skip or disrupt your viewing experience. So, if you're a paying member of the service looking to enhance your full-screen viewing experience without affecting the media that's playing, enable this new functionality. We'll show you how it's done!
On your iPhone, launch the YouTube app and click the Profile icon visible in the upper-right corner of the screen.
Scroll down to the Your Premium benefits heading.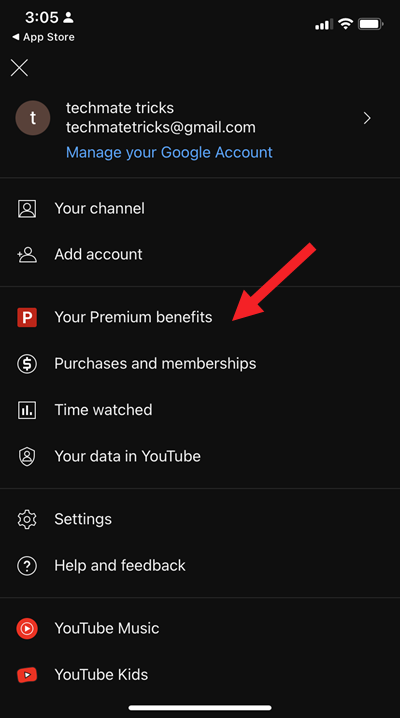 Expand the Try new features entry. It should read 1 available for a limited time. That's because the deadline to try out this new feature has been set to August 5.
When directed to a new screen, tap the Try it out button.
You should see a message reading, You're trying to Avoid accidental taps with Lock Screen.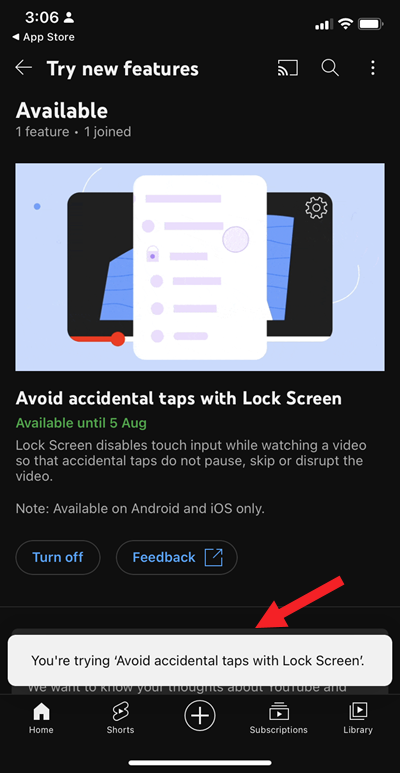 You'll immediately enter the Screen Lock mode on YouTube. Now, while watching a video in full-screen mode, tap on the gear icon in the top-left corner of the screen and select Lock Screen.
Availability
YouTube Premium members already get benefits like ad-free playback and high-bitrate streaming. With the rollout of the Lock Screen feature, they have one more bonus i.e., being among the first to test new features.
The move helps YouTube align with the industry trends and can go a long way in improving the experience of YouTube or convincing users to opt for the Premium version.
Kindly note that the option to Lock the Screen on YouTube is currently available for the YouTube mobile app only, running on iOS or Android. This leaves out other devices like desktops, laptops and smart TVs.
Share on Facebook