Lock Down Mode for iPhone protects users from highly targeted mercenary spyware
For most of us, our smartphones have become an even stronger identifier than our full name. This makes them all more vulnerable to digital prying, especially for people who have a public profile and do the kind of work related to activism, journalism, or politics. Such people who are at unusually high risk of cyber-attacks and use an iPhone can switch on the Lock Down Mode. It is a built-in iOS security feature that thwarts the risks of advanced cyberattacks. Here's what you should know about the new Lock mode for iPhone.
How to turn on Lockdown mode for iPhone?
This isn't a rule but an exception. I mean, instances where you have to worry about being locked under the government's digital surveillance scheme or some kind of state-sponsored cyberattack. However, if it does happen, Apple's Lockdown mode on iPhone makes sure that your data and the information stored on it and other Apple devices remains safe. The mode thwarts malware and spyware attacks like that of Pegasus.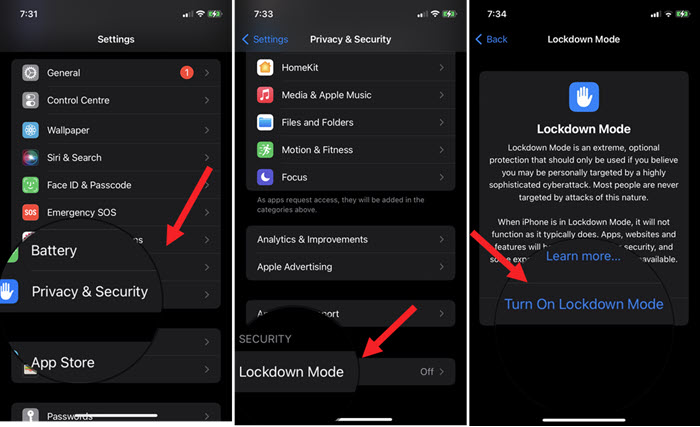 Go to your iPhone Settings.
Scroll down to the Privacy & Security option.
Under Security, tap the Lockdown Mode entry.
Hit the Turn on Lockdown Mode option.
Select the Turn On & Restart option then enter your device passcode when prompted.
Lockdown mode effects
Once Lockdown Mode is active, an "extreme" level of security will operate on your iPhone. A downside of this action is it will severely restrict or completely disables certain features, apps, and even websites.
The following protections will be in place –
MDM: The device won't have permission to enroll in mobile device management (MDM).
Configuration profiles: Profiles for school or work will not install when attempted.
Messages: Most message attachment types other than images will be blocked. Similarly, some features, like link previews will be disabled.
Web browsing: Certain complex web technologies, like just-in-time (JIT) JavaScript compilation and browsing features, will be stopped unless the user excludes a trusted site from Lockdown Mode.
FaceTime Calls: Incoming invitations and service requests, including FaceTime calls from people you have not previously called, will be blocked.
Wired connections: chord connections with a computer or accessory will be blocked while iPhone is still in a locked state.
Remarks – iPhone Lockdown Mode will enable special protection but at the expense of seriously limiting many of your smartphone's core features. So, if you are a regular iPhone user, there's really no need to enable this mode unless, there's some real risk of targeted cyberattacks.
Share on Facebook