Turn off the location tracker in iPhone to stop apps and your phone from tracking you
The default setting in iPhone lets it automatically track your location. As such, you'll often find it storing information related to the locations you visit, along with times and dates and detailed maps. It does so to provide a variety of location-based services. For example, your iPhone will track your location to provide location-specific suggestions when you're using Siri but, there's also an option to turn off this location tracker in iPhone. Here's an easy-to-follow guide on the process.
How to turn off the location tracker in iPhone
For companies, your location information can be useful for a lot of things and when added up and analyzed, this info can sketch an intimate portrait of a your daily life that can be extremely valuable to direct marketing advertisers. Though Apple says, it doesn't send your information to advertisers, the apps running on its platform do. For this reason, it offers an option to tighten controls over your privacy. That way you can make apps access your location only when it's necessary or even better, disable location tracker in iPhone, if required.
Launch the Settings app on your iPhone. Move to Privacy & Security heading. Tap to expand it.
To disable Location services, toggle of the switch next to the entry. Doing so also means stopping Apple Maps from showing you accurate readings.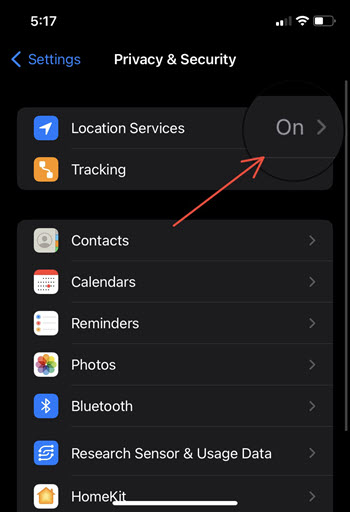 To see which apps have access to your location, look for the purple colored arrow icon against them. To control their access, select the app/s and tap the desired option (While Using the App or Never).
For more ways to limit location access by the iPhone itself go to System Services. Scroll down to Significant Locations entry. Disable the option. It provides location-specific suggestions when you're using Siri or other features.
Toggling off your location settings may differ from one iPhone to another, depending on what model you own and what version of iOS it's running.
Share on Facebook